Featured Products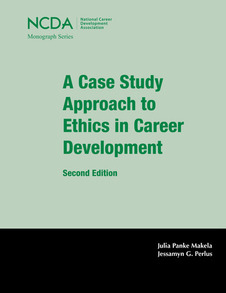 A Case Study Approach to Ethics in Career Development, 2nd Edition (Makela & Perlus, 2017)

The second edition tackles some of the most vexing questions that career development professionals encounter today. Using a case study design, it offers a hands-on experience with ethical terminology, resources, and issues. Each dilemma presented includes detailed, guided discussion of key issues and recommendations, with direct connections to the 2015 NCDA Code of Ethics. As a result, the often intimidating topics of ethics and professional standards are made accessible to career development professionals at all levels - beginners-in-training who are navigating difficult situations for the first time, seasoned professionals who are expanding their learning through shared experiences with colleagues, and everyone-in-between. This second edition presents current literature, eight new cases and "serves as an essential resource for practicing career professionals and students in professional preparation programs."
Only $20 for the print or ebook (PDF).
Sale ends September 30, 2023. Shipping/handling not included.
Shop the Career Resource Store now.