08/27/2020
Did you miss the 2020 NCDA Virtual Conference?
Register by Dec 1st to access the virtual conference!
Registration is open until Dec 1st for those wanting access to the 80+ presentations from this event. Those that register will receive an automatic 15-hours of continuing education. The event is accessed through the NCDA Conference App with recordings easily accessible on any device. You will receive access instructions after the registration payment has been received.
To register today for only $250, for members ($375 for non-members) click on the link below: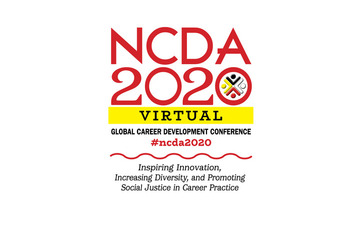 This is your chance to hear:
Keynote Speakers:
Lisa Taylor
Patricia Arredondo
Rosie Davis
Presidential Choice Live Events:
Current Trends in Diversity Recruiting Practices
Reframe Your Career Game: 5 Shifts Required of 21st Century Career Practice
Some Assembly Required: Career Construction

Supporting Unemployed Mid-to-Late Career Adults through the Lens of Schlossberg's 4-S Transition Model
and over 80 recorded presentations! All available to you for up to a year.

Comments from virtual participants included:
This was extraordinary!
Excellent presentation!
Great information!
Feeling inspired!
Awesome presentation!
This is fascinating and so inspiring!
Most interesting with great new concepts!
More details about the
2020 Virtual Conference and using the conference app are available until Dec 1st on the


NCDA conference website
---