02/01/2023
A Review of "Essays Celebrating John L. Holland's Autobiography and Contributions to Career Theory, Research, and Practice: A Festschrift"
By Taelar Bybee
Essays Celebrating John L. Holland's Autobiography and Contributions to Career Theory, Research, and Practice: A Festschrift is a comprehensive collection of ten authors' reactions and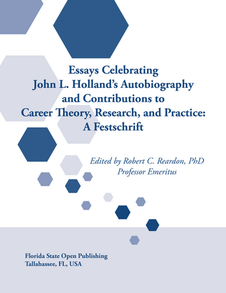 reflections to Holland's autobiography, which was published posthumously in 2020. The collection of essays was edited by Robert C. Reardon, Ph. D., and published by Florida State Open Publishing (FSOP). FSOP is an open-access publishing service of Florida State University Libraries, which provides unrestricted information and resources free of charge. Contributors to the Festschrift include: Brian M. Montalvo, William C. Briddick, Margaret M. Nauta, Darrin Carr, Amanda C. Sargent, Stephen Simusa, Emily Kennelly, Carley Peace, Debra Osborn, and Gary W. Peterson. The autobiography, My Life with a Theory: John L. Holland's Autobiography and Theory of Careers, was published by the National Career Development Association (NCDA), under the editorship of Jack R. Rayman and Gary D. Gottfredson (2020).
The collection of essays opens with a preface written by Robert C. Reardon, Ph.D., which describes why John Holland wrote an autobiography and expresses hope that readers will feel inspired and moved after reading others' responses to the autobiography. Holland wished his personal and honest account of his experience developing his theory and the challenges he faced with research would be helpful for students and new researchers. It is not often that scholarly, published works are written with novices in mind.
Human Experience in Science
For graduate students interested in career counseling as a profession or those who are taking a career counseling course, this is a valuable account of the man behind the RIASEC theory. It gives dimension and depth to the RIASEC theory, but most importantly, it highlights the impact Holland has had on practitioners' professional and personal lives. The content counseling graduate students study often focuses on the "what" and rarely sheds light on the "why and how" core concepts came to be. The person behind the concept or theory is forgotten, and the human experience in scientific work and research literature is lost. This Festschrift pulls back the curtain and applauds the humanistic aspect of Holland's autobiography and recollection of what he went through to develop the RIASEC theory.
Impact on Graduate Students
As I read these essays, I appreciated what a rare opportunity this was to gain intimate knowledge about a pioneer of career counseling, the theory he developed, and his journey to achieving his professional legacy.
Prior to reading these essays, I knew of Holland from my career counseling course as the person who developed the RIASEC theory. Again, the coursework and textbook focused on the theory, not Holland, the person. I see the RIASEC theory as more than a personality type theory now. It was developed by a person who wanted to offer people a more simplified way to better understand themselves and what they bring to the world. Holland's personal account humanized research and depicted what may be one's reality when developing a theory. He did not shy away from sharing the challenges and failures of his process, which normalized my own experience with being a graduate student in a clinical mental health counseling program. For me, it was important to read about a world-renowned individual not getting it right the first time and having to overcome hurdles.
What surprised me the most was learning that one of Holland's major personality codes was Artistic ("A"), which contrasts what I had assumed, especially for the Investigative ("I") environment of research. I was struck by how many of the Festschrift authors reflected on Holland's humor. Who has heard of a career counseling theorist known for his sense of humor?! As I reflect on that revelation, I gain an understanding of how important it is to hold on to your authentic self, especially when faced with failures and challenges in your profession.
Reardon accomplished what he had hoped with this collection; I finished reading these essays feeling inspired and moved by what others had to say about Holland.
Applying the Festschrift
I developed a few recommendations for how to use this collection, which may be helpful to other graduate students and even counselor educators teaching career counseling courses:
Begin on page 51. I know it is unconventional not to start at the beginning, but I recommend starting with "John Holland and the Cognitive Information Processing Team: Two Approaches to Theory Construction in Career Counseling and Development" by Gary W. Peterson as an introduction or refresher for Holland's RIASEC theory. It reads as a chapter in a career counseling textbook, providing a comprehensive overview of the theory, along with a comparison with cognitive information processing (CIP) theory. The source material for the RIASEC theory in this chapter comes from Holland's autobiography, describing his intention for the development of the theory. This essay is different from the others in the collection as it focuses on the theory over the person behind the theory. Considering this, I see this as a beneficial place to start to affirm foundational knowledge about the theory and CIP.
Use this as supplemental material for coursework and assignments. If graduate students are participating in role-plays or writing papers implementing Holland's theory, this Festschrift can be used as supplemental material by students as they complete the assignment. Exploring the characterizations of the six types and environments may lead to a deeper understanding of Holland's typology.
Examine your own RIASEC code. According to Holland, the six types should be seen more as overlapping rings, not separate bins. An exercise could be implemented for graduate students to examine their RIASEC personality type, how the types may overlap or strengthen one another, and the assumptions of each type. While engaging in discussion with other classmates about their own results, students may find they share commonalities and have a similar history.
Consider utilizing open-source material. As a graduate student, I have come across instances where I am not able to obtain access to certain resources and literature. So, the Festschrift's accessibility was refreshing and appreciated. I highly encourage counselor educators to add open-source materials to their courses. Implementing accessible (and free) content for students is an excellent step toward dismantling barriers and gatekeeping information. NCDA, the publisher of the Holland autobiography, offers occasional discounts on the book, as well as a free webinar interviewing one of the editors, and several articles in their web magazine, Career Convergence.
The collection of essays is available at Florida State Open Publishing (FSOP) https://manifold.lib.fsu.edu/projects/reardon-holland-festschrift

References
Rayman, J. R., & Gottfredson, G. D. (Eds.). (2020). My life with a theory: John L. Holland's autobiography and theory of careers. National Career Development Association.
Reardon, R. C. (Ed.). (2022). Essays celebrating John L. Holland's autobiography and contributions to career theory, research, and practice: A festschrift. Florida State Open Publishing.
---
For more on Holland's autobiography, see:
My Life with A Theory: John L. Holland's Autobiography and Theory of Careers - Book Review by Brian M. Montalvo (2020)
Our Lives with a Theory: Reflections on John Holland's New Autobiography - By Carley Peace and Deb Osborn (2021)
---

Taelar Bybee (she/her) is a graduate student pursuing a master's in Clinical Mental Health Counseling at The University of Tennessee at Martin. Taelar obtained a Bachelor of Science degree in Organizational Leadership from Dalton State College and has worked in various non-profit and professional organizations managing their membership development initiatives for over 10 years. After graduation, Taelar hopes to assist clients with issues of self-acceptance, stress management, grief, and trauma. When she isn't studying, Taelar can be found enjoying a cozy cup of tea and cuddling with her dog, Robin. She can be reached at tbybee@ut.utm.edu
2 Comments
Disclaimer: The opinions expressed in the comments shown above are those of the individual comment authors and do not reflect the views or opinions of this organization.
---