09/01/2014
Wanderlust: Engaging Underrepresented Students with Wandering Maps
By Tiffany Waddell
As we seek to prepare our campuses, classrooms, and "helping spaces" to serve clients within a global context of personal and professional development, what is our goal? What exactly is it that we, as practitioners – counselors, educators, and often gatekeepers of information and valuable resources – are aiming for when we create new programs or initiatives to engage traditionally underserved populations?
The most immediate goal may be to encourage introspection: ask questions, connect the dots, consider what drives and motivates them to learn and do. As such, students and clients can also strive to identify access barriers and learn to network, negotiate, and advocate for themselves and others by creating a trusted mentoring community. As individual practitioners, how can we serve the masses in fresh and exciting ways, reaching more students with time, space, and personnel resources that are often limited? Are there non-prescriptive ways to encourage introspective thinking and connection as foundation for a more traditional career development conversation?
Connecting the Dots
In my previous professional role, I collaborated with the Wake Forest University Office of Multicultural Affairs, which offered a nine-week personal development workshop series for men and women of color. As part of this series, the office invited me to facilitate a career development session with each cohort of 10-15 students. With first-year and sophomore students in the same room, I had to determine what could hold meaning for all of them and get them started with self-assessment and career exploration, without lingering on a website overview or drowning them in handouts. I found the Wise Wanderings map exercise to be particularly helpful. The wandering map is a visual thinking exercise created by Dr. Katharine Brooks and found in her book, You Majored in What? Mapping Your Path From Chaos to Career (2009). In the past, the wandering map exercise has proven an effective tool for sparking thoughtful conversation in small group settings. (A sample map is included here.)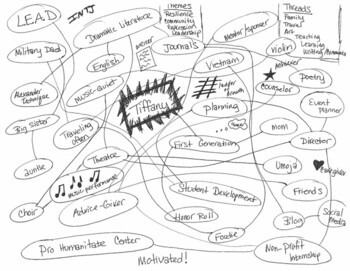 In the context of a rigorous academic environment, the wandering map exercise encourages silence and digging. With a blank sheet of paper and a pack of colorful pens and markers, the activity offers a safe space to guide students when addressing the question, "what places, people, and things are important to you?" It also drives the illumination of "themes and threads" to tie these pieces together. Some of the items that may appear on a student's map might include: reminders of extracurricular activities that were impactful, mentors and other family "champions" that have served as a support system throughout their life, and/or specific skills that have assisted them as they overcame obstacles in and out of the classroom. Patterns of what they choose to write down may illuminate forgotten items that motivate them, and unlock professional possibilities not yet considered. Particularly for younger students or clients, this activity removes the pressure of agonizing over "what do you want to study and what job will it get you when you're done," and instead shines a bright light on their gifts, experiences, and social capital. Self-exploration is the heart of what activates the career exploration process. At the end of a session, the group has both been on a journey within themselves and engaged in a shared experience of connecting dots related to their interests and values.
Unpacking Meaning
Through this group exploration activity, I established a relationship that allowed the students involved to trust the process, and unpack the experience together. This relational process creates a positive bond between students who may or may not frequent a counseling office for a myriad of reasons. It cuts right to the chase: these items are important to consider long before you start a job or internship search, and there are people here who want to support you with all of it, as you figure out what you don't know – and affirm what you do – along the way. You do matter.
Although I used the map exercise in a college career counseling setting, I would recommend it as a creative resource in many different settings. Individual counseling and group academic advising at the collegiate and community college levels, and even K-12 or private practice clients would benefit from this guided exercise. It is a fantastic tool that encourages exploration and connection without self-editing, can lead to meaningful conversation and reflection, and primes individuals to "think outside the box," considering interests, values, and skills as part of a collective exercise.
---

Tiffany Waddell, MA is the Assistant Director for Career Development at Davidson College. She has coached hundreds of budding young professionals on how to create strategic action plans for academic and career-related goals. Affectionately known for her "tough love" approach to coaching and people development, she is an avid connector of people and ideas. Waddell received both her BA and MA from Wake Forest University. Connect with Tiffany on Twitter @tiffanyiwaddell or via email at tiwaddell@davidson.edu.
7 Comments
Disclaimer: The opinions expressed in the comments shown above are those of the individual comment authors and do not reflect the views or opinions of this organization.
---