07/01/2014
The Goldilocks Challenge: Getting Postsecondary Education Advice Just Right
By Janet Wall
You are a career practitioner helping people in career exploration or transition to decide whether they should obtain postsecondary education, what they might major in, where they should go to get that education, how much it will cost, and what salaries they are likely to command. You may have sung the same refrain as many others that having a college education is an important goal unto itself, and it will provide a person a secure and solid future. Go to college at any cost and it will pay off. Is that really the best advice?
Generally Accepted Advantages of College Attainment
A college education has its advantages. It gives a person more status and prestige; it opens up more job opportunities; makes you more attractive to employers; validates a person's persistence and ability to reach a goal; and, on average, commands a higher salary as compared to those who do not have a college education.
Specific research findings about postsecondary education include the following:
The unemployment rate for college graduates is far lower than for those with a high school diploma. (BLS). The same trend is true when one considers underemployment. (The College Advantage)

On average, higher education levels equate to higher the lifetime earnings. For example a high school diploma graduate is expected to earn about $1.3M, a person with some college and no degree, $1.5M, an Associate's degree earner, $1.7M, while a bachelor's recipient will earn about $2.3M. (The College Payoff)

Claims are made that 22 million new college degrees at the Associate's or above are needed and that nearly 5 million more workers with at least postsecondary certificates will be required. (Projection of Jobs Through 2018)
Situations That Might Give You Pause
Twenty one of the top 25 occupations with the most job openings do not require a postsecondary degree. (Career OneStop)

A majority of new jobs in the future (> 70%) will be found in occupations that can typically be entered without a 4-year college degree or more. Short to long term on the job training will be valued (Figure 1).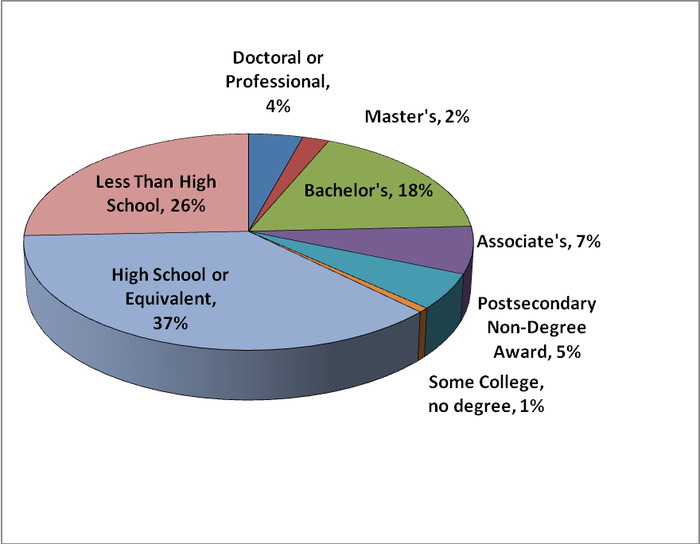 Figure 1. New Jobs by Occupations Assigned to Education Categories, 2010-2020, Bureau of Labor Statistics
What's Trending Today
Differential Tuition. Some individuals feel that persons majoring in the hard sciences should be encouraged to complete college degrees through lower tuition rates. (Freakonomics). Others feel that if you are in a major that will earn more, the tuition should be higher. (Univeristies Charging More Tuition for Harder Majors)
MOOCS. Massive Open Online Courses are gaining momentum in higher education discussions primarily for the potential of reducing college costs while providing low cost college courses.
ROI. Discussions are being held by parents, counselors, students, and higher education officials regarding the return on investment (ROI) for attending college, suggesting that the economic outlay may not be a good investment given the economic benefits expected.
The Employment – Higher Education Mismatch. In the United States, only 44 % of young people felt that their postsecondary education improved their employment possibilities. For college graduates, the number is 55%, not a resounding salute to postsecondary education institutions. While 87% of postsecondary education providers felt that they were adequately preparing students for the workforce, only 49% of employers agreed -- a difference of 38%! (Education to Employment; note, this is a large pdf)
Career Practitioners Getting It Just Right
Making good career and education decisions is an intricate dance between personal desires versus economic realities. The competent career practitioner advising individuals on postsecondary education needs to:
stay alert to changing employment opportunities by participating in professional development opportunities focusing on labor market information and economic conditions, and by following the work of institutions such as the Bureau of Labor Statistics;

track trends in higher education, like tuition, graduation rates, and subsequent employment, and inject that information to the conversation when working with clients;

pledge that the advice provided to students and clients is sufficiently comprehensive for making the most informed career decision with the latest and best data and research – not too much, not too little, but just right.
---

Dr. Janet Wall, CDFI, MCDP, is a career development practitioner, speaker, and course developer with interests in assessment, vocational interests, abilities, technology and writing. She is the founder of www.CEUonestop.com, an NBCC approved continuing education provider. The latest course, Realistic Career Decision Making: It's Not Just About Passion, is based on some of the information in this article and offers CEU clock hours for your certifications. She is author of several books, co-author of the Ability Explorer, and is recipient of NCDA's Merit Award and the American Counseling Association's Government Relations Award. Look for her presentation on informed career decision making at the upcoming Boston NCDA Career Development conference. You can reach Dr. Wall at careerfacilitator@janetwall.net.
23 Comments
Disclaimer: The opinions expressed in the comments shown above are those of the individual comment authors and do not reflect the views or opinions of this organization.
---