02/01/2013
Enabling Career Guidance Assessment for All: The Universal Encouragement Program
By Susan Roudebush
We assess student traits; why not assess students' guidance needs and the effectiveness of our school counseling program interventions? Guidance assessments quickly capture a wealth of information critical to providing effective student support. This article explores the Universal Encouragement Program (UEP), a guidance assessment designed to: identify student interests, concerns and needs; measure the effectiveness of school counseling program interventions; and measure student interests and guidance needs.
Historical Perspective
Career assessment in schools began about 100 years ago with Frank Parsons' work in the early 1900's. By 1918, over 900 programs appeared in high schools across the United States (Brewer, 1918). By the middle of the 20th century, federal legislation with an emphasis on guidance in the public schools, appeared (e.g., the 1958 National Defense Education Act and The Elementary and Secondary Education Act of 1965). Guidance legislation continued as did the growth of career guidance assessments and career development services in schools. These days, career assessment plays a significant role in career planning for students, and the Universal Encouragement Program exemplifies the sophistication and scope of these very useful assessments.
The Universal Encouragement Program (UEP)
The UEP benefits secondary and college counseling personnel by gathering and reporting guidance data through an online assessment. The resulting reports identify key benchmarks of college and career readiness. Comparison and change reports document growth and change across time. UEP communications tools enable school counselors to target email messages to students and parents. UEP reports document:
College readiness

Career readiness

School engagement

Student involvement preferences

Key benchmarks for academic attainment and success.
UEP reports identify students with multiple concerns and risk factors and can display the students associated with each factor, facilitating one-click interventions—the ability for a school counselor to send a group targeted email to students or parents. These reports also show the effect of program interventions across time and help target individual student and school counseling program needs.
The Indianapolis Initiative
The Starfish Initiative of Indianapolis, IN uses the UEP to measure the effects of their program and to target individual guidance needs. Starfish's mission is to increase high school graduation and college success rates among low-income students. Starfish accomplishes this through one-on-one mentoring and college access programs. According to Betsy Hickman, Chief Operating Officer, "The UEP has provided us some really powerful data that show the positive effects of our mentoring program. It also has really helped our support staff to gather and act upon student concerns." Scott Gillie, UEP developer notes, "The powerful reporting capabilities of the UEP make it a sensitive tool for capturing individual and group change. For school counselors who wish to demonstrate value added in the counseling domains, document risk reduction that results from programmatic efforts, and profile student demand for an array of guidance and student support services, the UEP is an unparalleled device."
The UEP can be customized, allowing a school to add and delete items for their site or a specific subset of the site. This powerful tool is available to schools and education support program at no charge and can be integrated within the Career Information System. Enhanced reporting tools for states, districts, consortia, and multi-site programs are available on a subscription fee basis. To learn more, visit the UEP home page.
Benefits for School Counselors
The UEP helps school counselors focus intervention and prevention efforts by identifying students with risk factors and allowing school counselors to take immediate, efficient and responsive action. For example, counselors can identify all students who report that they have no help with homework at home or who report that they engage in zero hours of homework per week. Counselors can then send an instant email to these students and their families encouraging them to use the school's tutoring and homework support services.
In addition, school counselors can use the UEP to measure and document the effectiveness of school counseling interventions and thereby provide needed accountability for school counseling programs. As Norman Gysbers states in Developing and managing your school guidance program, "Demonstrating accountability through the measured effectiveness of the delivery of the guidance program helps ensure that students, parents, teachers, administrators, and the general public will continue to benefit from quality comprehensive guidance programs" (Gysbers & Henderson, 1994, p. 362).
School counselors also can use the UEP's group reports to compare student subgroups or to compare populations at different points in time. The factor-based reports provide summaries of key benchmarks, risk factors, and characteristics associated with academic success and postsecondary participation.
Had the UEP been available to me when I worked as a school counselor, I would have more responsibly and professionally managed my job and served my students. Looking back, if I could have added any tool to my office, it would have been the UEP.
Sample Benchmark Factor Change Report:
Students Sampled Early in Grade 9 and Later in Grade 10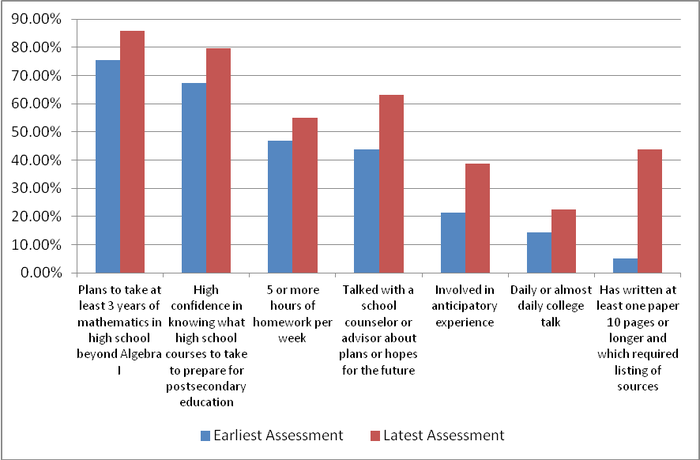 References
Brewer, J. M. (1918). The Vocational Guidance Movement: Its Problems and Possibilities. New York: Macmillan.
Gysbers, N. C., & Henderson, P. (1994). Developing and managing your school guidance program (2nd ed.). Alexandria, VA: American Counseling Association.
Guidance and School Counseling - A Brief History of School Guidance and Counseling in the United States. Retrieved from http://education.stateuniversity.com/pages/2023/Guidance-Counseling-School.html
---

Susan Roudebush, M.S., CDF, CDFI, works as a User Services Specialist for the University of Oregon's intoCareers. In addition to her work as a school counselor and educational consultant, Susan has worked with CIS for 30 years. She served in the first CDF Instructor Training and CDF Master Trainer groups and trained over 500 CDF students in Oregon and roughly 50 CDFI instructors throughout the Northwest. Ms. Roudebush can be reached at susan@intocareers.org
4 Comments
Disclaimer: The opinions expressed in the comments shown above are those of the individual comment authors and do not reflect the views or opinions of this organization.
---