04/01/2012
What Sustains the Practitioner?
By Marilyn Maze
As we work to help clients find meaningful employment in a weak economy, and feel the pain of our clients as they struggle through the career choice and job search process, it may seem as though we carry the cares of the world on our shoulders. Can career development practitioners continue in the face of such challenges? Of course, but how we continue is the question! Imagine that you had agreed to participate on a panel presentation and were asked to explain what sustains you as a career development practitioner. What would you say? At the NCDA-sponsored regional institute for career development practitioners in Charleston, South Carolina in early 2012, four practitioners were asked to share what sustains them. Their answers may help you to compose your own answers to this question and feel uplifted by the shared responses.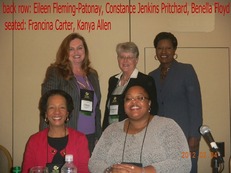 Responding to the Question of Sustenance
According to Francina Carter, who is a Correctional Program Specialist for the National Institute of Corrections, Washington, DC, "What sustains me in my work as a career development practitioner is training others who are passionate about the work they are doing in spite of great odds; hearing the many success stories of individual ex-offenders and the innovative programs that assist them; and seeing governmental agencies provide support in addressing the need for offender employment retention to reduce recidivism."
For Kanya Allen, who is the Coordinator of Career Services at Hopkinsville Community College Career and Transfer Center in Kentucky, "knowing that I have some small part in assisting our students with employment and life success is what sustains me. Many of our students are adult learners; some have been laid off from jobs where they worked 20+ years. They come to me frightened and unsure of themselves, but I am always so proud to see them progress through their journey and walk across the stage on commencement day. Many choose to continue their education and many others are able to return to the work force as better prepared workers. I am excited to help them reach these goals."
Eileen Patonay, a Global Career Development Facilitator (GCDF) at Forestbrook Middle School in Myrtle Beach, South Carolina, is sustained by working with our youth, who are our future. "By connecting academics to a career, by making a connection from the classroom to a career, we are validating what and why the student should learn what is being taught. For example... didn't we all wonder why we needed middle school math when we sat there in class? Let's say Johnny takes a career assessment and is interested in CSI (a criminal investigation field). I can help Johnny relate his academic coursework to his career, (e.g., math helps with calculating data; science helps with the chemistry of a crime scene; English helps with writing a police report; social studies helps with recreating an event that happened in the past to solve the crime)." Ms. Patonay also helps parents find jobs through the school's Partners in Education, combining career development with economic development. Feeling good about contributing in this way is better than feeling challenged by unemployment!
For Benella Floyd, Supervisor of Monitoring with the Lower Savannah Council of Governments in Aiken, South Carolina, emphasizes that "knowing the knowledge and services we provide as a system positively impact the lives of those we serve is the greatest reward. Preparing youth for the workplace, helping an adult who has little or no marketable skills enter educational training, or just helping a dislocated worker get back to work is the ultimate reward. As career practitioners, we have learned the need to be compassionate and honest as we assist others in making career decisions that affect life long choices. I have fallen in love with the work that I do because it has a holistic impact on the lives we are able to change."
Career Development Practitioners Change Lives
These panelists pointed out a variety of ways that our work sustains us. As career development practitioners, we know that we are not just providing helpful services, but changing lives. Often, the clients we see are in a time of crisis and not sure what to do next. We watch as they take control of their own futures, and become empowered with the skills they need to find gainful employment. We know that guiding them through these difficult transitions makes an important difference in their lives.
Many of us work with younger people. Their enthusiasm and energy draws the best from us, and helps to energize and refresh us. We can't get old because they won't let us. Every time we turn around, they are using new technology, finding new ways to stay connected, and talking about new ideas. The energy and confidence with which youth face whatever the future may bring is contagious.
Our work never gets stale or repetitive. Each day, we see new faces, each with a unique set of problems. The new problems and barriers to success seem so daunting at first, but as we look more closely and sort through the issues, we find ways to apply familiar strategies and techniques to help our clients. We watch our clients gain new competencies, self-confidence, and rewarding employment. Most of us have had clients who blossomed after they began to feel empowered or found a use for their talents. Some may even have taken the time to follow up with us or say thank you. We can take pride in knowing what our clients have made of their lives. Knowing that we have been part of their journey to create new lives helps us to feel a sense of satisfaction.
Working Collaboratively
The career development profession attracts some pretty spectacular professionals. Many of us also work with specialists in a variety of other professions, providing a complete set of services to help clients help themselves. Some of these colleagues have the energy, enthusiasm, and skills to inspire us to higher levels of achievement. Working together, we can accomplish great things. Readers of this article are invited to respond to the question, "What Sustains You?" Click on "Leave a Comment" below to share your thoughts now.
Career development is a field that is truly worth the effort. While many jobs require long hours of hard work in order to make a reasonable living, our field offers something more. We know we make a difference in the lives of those we serve. This is sustaining, inspiring and empowering to our careers and gives meaning to our lives.
---
Marilyn Maze, Ph.D., is a Principal Research Associate for ACT, Inc., and one of the developers of DISCOVER, a computerized career guidance program that includes extensive information about occupations, majors, schools, and other aspects of career planning. She also conducts research using ACT's extensive data related to career choices of youth and adults. Contact her at 410-584-8000 or marilyn.maze@act.org.
4 Comments
Disclaimer: The opinions expressed in the comments shown above are those of the individual comment authors and do not reflect the views or opinions of this organization.
---