10/01/2023
Career Development Strategies for Low-Income Students
By Ashlin Schoenfelder, Lori Strasburg, and Billie Streufert
Financial capital often determines college success (Bourdieu, 1986). Several career barriers related to finances exist for low-income students, including securing professional clothing, affording transportation or internet access, time constraints, and hidden institutional fees (Ardoin, 2020; Kitchen et al., 2021; Nguyen, 2023). Low-income students may also need to deal with immediate needs, such as food scarcity, and not have the capacity to consider future goals (Duffy et al., 2021). Working-class students may also be unable to use university services if staff are only available during traditional office hours (Ardoin, 2020). Fortunately, career services professionals can alleviate these obstacles and advance students' career development given their valuable leadership (Evan & Sejuit, 2021). They can recognize students' needs and respond with community partnerships, clothing closets, and holistic support.
Recognizing Student Needs
Career services professionals have ongoing opportunities to respond to the needs of low-income students. They can begin by auditing institutional practices and considering where fees exist. Institutions that charge fees for career services resources, such as assessments or job fairs, may impede the career development of low-income students. The hours the university offers for career services may be modified or staggered to be more available to students who have other commitments during the daytime. Some students cannot fully access high-impact practices such as study away or internship due to the additional costs they incur (Ardoin, 2020). Scholarships and transportation resources can remove these obstacles.
Clothing Closets
Students often desire professional attire when asked to identify their needs (Ardoin, 2020; McGuinness, 2021). A clothing closet, often a non-profit agency that offers free or low-cost professional attire to those in need, is one option for aiding students. Two popular avenues for identifying or creating clothing closets include community partnerships and institutionally created resources.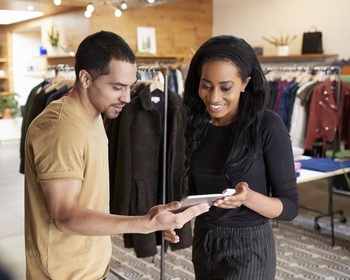 Community Partnerships
Career services professionals can connect students to resources within their communities. Dress for Success is an international organization that exists in 140 cities in nearly 25 countries. The mission of Dress for Success is to empower women to achieve economic independence by providing a network of support, professional attire, and the developmental tools to help women thrive in work and life. Students receive professional clothing, career development, mentorship, and leadership opportunities. Staff also offer a financial literacy program to assist those to understand better their finances and the benefits offered in the workplace. The services are free and available to those who identify as female and are over the age of 16. Most local offices have no income guidelines or restrictions on who can receive services. The only requirement is that students are actively looking for work or opportunities for their career development. Other nonprofits may also exist near universities. Local institutions, such as Southeast Technical College, refer students directly to Dress for Success or co-host events on site with the agency. Career services professionals can contact their local chamber of commerce or Department of Labor office if they are unsure how to find others or who to contact to establish partnerships.
Creation of Charlie's Career Closet
Career services can also create clothing closets. The University of South Dakota established Charlie's Career Closet to provide a professional wardrobe to students at no cost. Career services staff were inspired to consider a clothing closet after they heard positive comments from students about Charlie's Cupboard, which addressed food insecurity (University of South Dakota, n.d.).
To fund and staff the closet, the Academic and Career Planning Center and the Department of Media & Journalism partnered together and secured a $15,000 grant from the USD Women in Philanthropy Alumni Foundation to kick-start this impactful and sustainable program. Funds from the grant were used to purchase specific clothing items, enhance the closet's physical structure, create two pop-up dressing rooms, and make the shopping space more inviting. The Academic & Career Planning Center manages the day-to-day tasks of the clothing closet, facilitates the clothing donation process, and hires student workers to staff the closet and organize donated items. The Department of Media & Journalism promotes the closet in various communications across campus.
Since its grand opening in March 2023, Charlie's Career Closet at the University of South Dakota has provided current students with free business professional and business casual attire. Charlie's Career Closet has received more than 4,500 articles of clothing from 180+ donors. Of those donations, more than 800 items were claimed by 250+ students in spring of 2023. Students used professional attire to prepare for career fairs, class presentations, internships, job interviews, dissertation defenses, and other networking events. Students routinely expressed their profound gratitude for these free resources.
Holistic Support
Higher education can recognize other needs by fostering caring relationships and listening to students' lived experiences (Kitchen, 2023). However, education practitioners often do not engage in financial conversations with students despite scholars' observation that these discussions make students feel valued (Nunn, 2021; Troxel & Kyei-Blankson, 2020). By talking with and sharing career development resources with everyone, communities can mitigate any feelings of embarrassment while fostering a sense of belonging.
Inclusive Mindset and Social Action
As career services practitioners support individuals who encounter financial disparities, they need to acknowledge that structures and social systems shape the success of low-income students (Walpole, 2011). Practitioners can avoid bias by acknowledging the role of social class and collectively taking action to advance access for everyone (Blustein et al., 2019).
Overcoming Barriers to Advance Student Career Development
Low-income students encounter barriers within their college environment. Career services professionals are leaders who can recognize their needs, remove obstacles, and respond with holistic support. They can examine their administration of fees, create clothing connections, and ask students to describe their experiences. Working together, they can provide broader individual and collective change that advances students' career development and well-being.
References
Ardoin, S. (2020). Engaging poor and working-class students. In S. J. Quaye, S. R. Harper, & S. L. Pendakur (Eds.), Student engagement in higher education: Theoretical perspectives and practical approaches for diverse populations (3rd Ed., pp. 307–324). Routledge.
Blustein, D. L., Maureen, K. E., Autin, K., & Duffy, R. (2019). The psychology of working in practice: A theory of change for a new era. The Career Development Quarterly, 67(3), 236–254. https://www.doi.org/10.1002/cdq.12193
Bourdieu, P. (1986). The forms of capital. In J. Richardson (Ed.), Handbook of theory and research for the sociology of education (pp. 241–58). Greenwood.
Duffy, R. D., Kim, H. J., Boren, S., Pendleton, L., & Perez, G. (2021). Lifetime experiences of economic constraints and marginalization among incoming college students: A latent profile analysis. Journal of Diversity in Higher Education, 16(3), 384–396. https://doi.org/10.1037/dhe0000344
Evans, K. M., & Sejuit, A. L. (2021). Gaining cultural competence in career counseling. National Career Development Association.
Kitchen, J. A. (2023). Developing low-income college students' sense of belonging: The role of validation. Journal of College Student Development, 64(2), 231–238. https://doi.org/10.1353/csd.2023.0020
Kitchen, J. A., Kezar, A., & Hypolite, L. I. (2021). More than a pathway: Creating a major and career ecology that promotes the success of low-income, first-generation, and racially minoritized students. About Campus, 25(6), 4–12. https://www.doi.org/10.1177%2F1086482220988670
McGuinness, M. M. (2021). Clothing programs – Dressed to graduate. In G. L. Martin & S. Ardoin (Eds.), Social class supports: Programs and practices to serve and sustain poor and working-class students through higher education (pp. 94–103). Stylus.
Nguyen, D. J. (2023). Low-income students thriving in postsecondary educational environments. Journal of Diversity in Higher Education, 16(4), 497–508. https://doi.org/10.1037/dhe0000360
Nunn, L. M. (2021). College belonging: How first-year and first-generation students navigate campus life. Rutgers University Press.
Troxel, W. G., & Kyei-Blankson, L. (2020). The "typical" advising session: An exploration of consistency [Research Report]. NACADA Center for Research at Kansas State University. https://nacada.ksu.edu/Portals/0/Resources/Research%20Center/documents/RR201%20-%20Troxel%20and%20Kyei-Blankson%20-%20The%20Typical%20Advising%20Session_An%20Exploration%20of%20Consistency.pdf?ver=CPHmenPQ0FDxR1tB-P4dEg%3D%3D
University of South Dakota. (n.d.). Departments, offices, and resources. https://www.usd.edu/About/Departments-Offices-and-Resources/Charlies-Cupboard
Walpole, M. (2011). Academics, campus administration, and social interaction: Examining campus structures using post-structural theory. In A. Kezar (Ed.), Recognizing and serving low-income students in higher education (pp. 99–120). Routledge.
---

Ashlin Schoenfelder is a Career Advisor and Employer Relations Coordinator at the University of South Dakota. She graduated with a Bachelor of Science Degree in Media & Journalism with a specialization in Strategic Communications and a Master's Degree in Educational Administration for Adults in Higher Education from the University of South Dakota. Ashlin is an At-Large Board Member for the South Dakota Association of College Career Centers, the Employer Relations Chair for the South Dakota B.I.G. Career and Internship Fair, Community Relations Alumnae Advisor for Pi Beta Phi South Dakota Alpha Chapter and a dedicated community member in Vermillion, SD. When she is not spending her time helping college students, networking with employers, or planning career events, she is spending time with her husband and two children. She can be reached at Ashlin.Schoenfelder@usd.edu

Lori Strasburg serves as the program manager at Dress for Success in Sioux Falls, SD, where she collaborates with community partners to advance the economic and career well-being of women. She has brought innovation to the organization through individual career coaching, women's programming, and community partnerships. lstrasburg@embe.org
Billie Streufert, CCC, NCC, has worked in career services for 20 years. In her current role at Southeast Technical College, she supports a dedicated student success team that empowers students to discover and achieve their goals as future workforce leaders. Her research agenda focuses on career exploration, diversity, and program outcomes. She may be reached at billie.streufert@southeasttech.edu
1 Comment
Disclaimer: The opinions expressed in the comments shown above are those of the individual comment authors and do not reflect the views or opinions of this organization.
---