05/01/2023
Integrating Disability Competence into the Career Development of High School Students
By Allison Levine
Adolescents have some of the highest rates of disability among the United States population. Moreover, there is a mental health crisis taking place among school-aged students, with suicide ranking as the second-leading cause of death among people aged 15 to 24 (American Foundation for Suicide Prevention, 2023). Mental health concerns and other disability symptoms contribute to less successful post-school outcomes for high school students. In other words, career development is impacted by the experience of symptoms related to mental health or other disabilities and therefore, students are less successful in obtaining goals related to higher education, competitive employment, or other postsecondary areas of independence.
Understanding Mental Health as Disability
A person with a disability is defined by the Americans with Disabilities Act (ADA) as a person with a physical or mental impairment that substantially limits one or more major life activities, a person who has a history or record of such an impairment, or a person who is perceived by others as having such an impairment (ADA, 1990, Title I). This definition is applicable to the experiences of many students with mental health needs. However, discussions of mental health crises among students do not include disability. Separating mental health topics from a more complete discussion that incorporates disability is a shortcoming that can inhibit the success of many students.
Breaking down barriers to using terms such as disability or disabled (visit Lead4Inclusion's module on identity-first language for more information), supports students in developing an identity that incorporates, rather than resists, being a part of the disability community. This identity shift also can facilitate student growth and success. For example, understanding mental health needs as possibly a part of a disability allows students and their caregivers to understand that they can receive accommodations and support at university disability services, which are attributable to student persistence in two and four-year postsecondary endeavors (Newman et al., 2021), as well as success in the workplace (Nevala et al., 2015). Students may also be eligible for vocational rehabilitation services, in which case they may be able to receive financial support, vocational training, and access to other opportunities that can lead to their success in postsecondary settings.
Competencies for a Disability Inclusive Practice
Developing an inclusive, disability-competent approach to career development will not only support students with disabilities, but also those without. While there are specific applications of multiple career development theories for different disability groups, a more practical approach is an overarching understanding of inclusive practices and orientations that are adaptable regardless of the preferred theoretical model one may use. These recommendations are, in part, informed by the American Counseling Association Disability-Related Counseling Competencies (Chapin et al., 2018).
Acknowledge Ableism
Ableism is "a system that places value on people's bodies and minds based on societally constructed ideas of normality, intelligence, excellence, desirability, and productivity..." (TL Lewis, 2021). When considering career development, counselors must acknowledge the role of ableism in their own perspectives about what they have been socialized to understand about work, professionalism, and disability. In order to develop a critical consciousness (Friere, 1974), counselors must recognize their own situated, internalized understandings and interactions with disability (not just people with disabilities) before they can fully move away from ableism. Starting with an inward look is essential, especially as it pertains to career development for high school students; work and education are two areas in which internalized ableism is prominent (e.g., notions of professionalism, 'problem' behaviors, etc.).
Understand Adjustment to Disability
Some of the most common reactions to a disability diagnosis or onset include shock, anxiety, denial, depression, anger/hostility, and adjustment (Livneh & Antonak, 2005). Counselors must be careful not to conflate representations of adjustment with setbacks or gaps in career development level. For example, a student who is experiencing feelings of anxiety or anger that manifest as avoidance of meetings or lack of engagement in future planning, may be labeled as unmotivated or with no direction. However, counselors must consider broader factors related to symptom onset, diagnosis, and finally, adjustment to disability. It is entirely reasonable for someone to be hesitant to project into the future when their current world has been turned upside down by a diagnosis (and possible requirement of additional services, moves to other classrooms, etc.). Even for those diagnosed from birth, adjustment to disability can shift over time and with new life stages.
Be Accessible and Inclusive
Inclusion is not the opposite of exclusion. Practices that are inclusive for students with disabilities include more than the simple act of not excluding them. While it is essential to understand and use physically accessible materials, spaces, and technologies, inclusion and accessibility can also be thought of simply as a way of being. Rather than being reactive to an inclusivity need, consider ways to be proactive. In most cases, the most accommodating and accessible format is ideal for all participants, not just the student with a disability. The TIES Center and their Inclusive Practice TIPS are resources for inclusive practices for students across ability levels.
Embrace Advocacy
According to the NCDA Code of Ethics (2015), career counselors have the ethical responsibility to advocate for student opportunities in schools, with employers, and with caregivers. Whether their advocacy takes the form of advocating for a single student in a specific situation or getting involved on committees or in groups that are taking up disability as a cause, counselors can make a tremendous difference by being advocates for their clients and their clients' communities.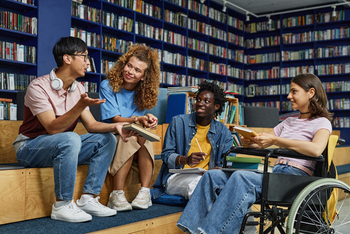 Disability competence is an important component of understanding and facilitating the career development of high school students with disabilities and mental health needs. Understanding ableism, adjustment to disability, and advocacy can help career counselors to better meet the needs of all students, and especially those who may need their support the most.
References
American Foundation for Suicide Prevention. (2023). Suicide statistics. https://afsp.org/suicide-statistics
Americans With Disabilities Act of 1990, 42 U.S.C. § 12101 et seq. (1990).
Chapin, M., McCarthy, H., Shaw, L., Bradham-Cousar, M., Chapman, R., Nosek, M., Peterson, S., Yilmaz, Z., & Ysasi, N. (2018). Disability-related counseling competencies. American Rehabilitation Counseling Association.
Freire, P. (1973). Education for critical consciousness. Seabury Press.
Livneh, H., & Antonak, R. F. (2005). Psychosocial adaptation to chronic illness and disability: A primer for counselors. Journal of Counseling and Development, 83(1), 12–20. https://doi.org/10.1002/j.1556-6678.2005.tb00575.x
National Career Development Association. (2015). NCDA code of ethics. https://www.ncda.org/aws/NCDA/asset_manager/get_file/3395?ver=738700
Nevala, N., Pehkonen, I., Koskela, I., Ruusuvuori, J., & Anttila, H. (2015). Workplace accommodation among persons with disabilities: A systematic review of its effectiveness and barriers or facilitators. Journal of Occupational Rehabilitation, 25(2), 432–448.
Newman, L. A., Madaus, J. W., Lalor, A. R., & Javitz, H. S. (2021). Effect of accessing supports on higher education persistence of students with disabilities. Journal of Diversity in Higher Education, 14(3), 353–363. https://doi.org/10.1037/dhe0000170
---

Allison Levine, Ph.D., CRC, NCC, is an assistant professor of counseling at the University of Iowa. Dr. Levine has been a Certified Rehabilitation Counselor since 2012 and has worked in psychiatric rehabilitation settings as well as in providing pre-employment transition services to students with autism spectrum disorders. Dr. Levine completed her doctorate in Rehabilitation Counselor Education at Michigan State University in 2018. Dr. Levine's research uses social justice frameworks for improving counselor education and supervision, in particular with regard to professional disposition development, as well as improving understandings about disability bias within the helping professions. Dr. Levine serves as a committee member of the Counselor Education and Supervision Task Force with Counselors for Social Justice (a division of ACA). She can be reached at Allison-Levine@uiowa.edu
26 Comments
Disclaimer: The opinions expressed in the comments shown above are those of the individual comment authors and do not reflect the views or opinions of this organization.
---