05/01/2023
Art Therapy and Career Counseling
Book Review by Lisa Severy
Parker-Bell, B., & Osborn, D. (2023). Art therapy and career counseling: Creative strategies for career development across the lifespan. Routledge. 334 pages, including index.
---
We all have textbooks that we have grown to love and stick with as a resource in support of our courses. Hopefully these books are updated with regularity and include new and emerging theories and practice. This new book by Parker-Bell and Osborn will quickly become a new staple for you. Art Therapy and Career Counseling: Creative Strategies for Career Development Across the Lifespan provides a thorough and innovative introduction to understanding, assessing, and supporting ethical strategies in both career counseling and art therapy. It could, and should, be a textbook in either field, intricately woven together for a beautiful new tapestry.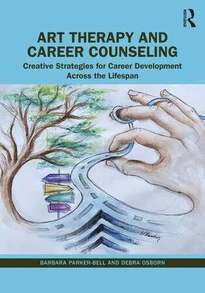 Career development publications help to inform career counselors, coaches, researchers, educators, and students about the vast breadth of career theory and tools to use in practice. Most focus on one element in a deep and meaningful way but in isolation from work. Barbara Parker-Bell and Debra Osborn have gifted this collection with a comprehensive guide that systematically offers a deep dive into theory and practice and how art therapy can and should be interwoven into each element. That would be helpful in and of itself, but the book infuses art therapy into all elements of career development including ethics, assessment, relational development, diversity and social justice, school-based counseling, positive psychology, decision-making, job searching, clients with disabilities, career transitions, program design and evaluation, and counselor scope of practice. While this piece is dedicated to the intersection of art therapy and career counseling, I highly recommend it as an inclusive and complete guide to career counseling with an infusion of creativity and hope.
Although our field has existed for more than 100 years, new insights continue to drive innovation into how best to serve those in search of career satisfaction and success. Much of our early theoretical foundations were grounded in logical consistency and a good deal of career development work focuses on decision-making abilities and the fit between individuals and work environments. This work is grounded in the analytical and logical side of the brain. Emerging theories focus more on the creative and innovative side of the brain. Using art therapy, these authors succeed in bringing together these two functional designs in a beautiful way. As both authors have served in leadership roles in their professional fields, readers can be confident that the content is on the pulse of both fields. Specifically, Osborn is a past-president of the National Career Development Association (NCDA), and Parker-Bell is the past-president of the Art Therapy Credentials Board (the national credentialling organization for art therapists) and a former Director on the board for the American Art Therapy Association (AATA).
Core outcome goals in art therapy include promoting insight and resolving conflict, bringing unconscious thoughts to the surface, and understanding inner experiences. In addition, they can be used as assessment tools like the original Rorschach tests. Underlying all of this is the basic idea that while talk therapy focused on verbal expression, art therapy may access completely different layers of nuance and unconscious understanding.
The integration of career counseling and art therapy may seem quite natural to folks who have been using artistic expression as an assessment, intervention, and activity in career development for some time. For example, many career counselors incorporate the use of collage. As the book emphasizes, the field of career counseling grew from the heart of social justice starting with Frank Parsons. Artistic expression in career development allows for clients to use their own culture, language, expression, and insight rather than applying an external lens or even applying to a norm group that is not representative of all clients. This expanded resource dives much deeper into the intersection of these powerful processes and creates something new.
In addition to solid grounding in both art therapy and career counseling, the structure of this book will be extremely helpful to educators and practitioners alike. Each chapter provides a complete theoretical and practical framework, discussion questions, and references. Most chapters also include stories and client cases to further illustrate the concepts presented in the chapter. Illustrations, charts, and diagrams also help to flesh out the content. There is even an appendix of "Career Counseling Art-Based Interventions" included that consolidates all the interventions mentioned in each chapter.
Rarely do guides like these carefully and systematically explore all aspects of a topic so thoroughly and with so much thought. This collaboration is well organized and makes no assumptions about background knowledge or level of experience. The combination of these two different disciplines combine to create a complete picture that is more than the sum of its parts.
So, is this an art therapy or career counseling resource? YES! Both disciplines will be able to utilize this important publication in classrooms and in practice.
---

Dr. Lisa Severy has been a leader in career development, counseling, and higher education since 1996. Lisa is an NCDA Certified career counselor and has worked with students and alumni in private practice, and at the University of Florida, University of Colorado Boulder, and the University of Phoenix. Lisa earned her bachelor's degree from Indiana University and has three graduate degrees, including a PhD in Counselor Education, from the University of Florida. She is past president of the National Career Development Association (NCDA) and currently serves on both the NCDA and American Counseling Association (ACA) boards. She can be reached at lisasevery@yahoo.com
2 Comments
Disclaimer: The opinions expressed in the comments shown above are those of the individual comment authors and do not reflect the views or opinions of this organization.
---