04/01/2023
Preparing High School Students for the College Experience Using Technology and Artificial Intelligence
By Dr. Ouida McAfee and Dr. Aikyna Finch
School counselors have a responsibility to assist teachers and administration in the preparation of high school students for their next step in life. For those students who are interested in college, the processes and support for matriculating from high school to college can be lacking but improved with the application of technology. For example, with the number of school counselors in decline, high school students need other means of assistance to ensure success in college. Though the recommended ratio of students to counselors is 250:1, the current ratio in U.S. high schools is about twice that number and some schools have no counselors at all (Government Techonology, 2019). This shortage means many students, especially students who will be the first in their families to attend college, have to find the support they need to pursue college and career opportunities. Technology could help to fill the information and guidance gap through virtual mentoring programs (Government Technology, 2019). According to Ana M. Martinez Aleman and others (2018), technology can support learning and academic engagement in first generation students to improve their postsecondary success and completion. Just as a school counselor would make the following recommendations to students, a virtual mentor could provide assistance:
| | |
| --- | --- |
| School Counselor | Virtual Mentor |
| Increase language skills or address sensory difficulties | Grammarly, Google Translator, virtual reality or gamification |
| Share your resume with the guidance office, potential employers, and schools | Microsoft Office 365 |
| Increase skills needed for employment | Canva or ChatGPT |
| Overcome barriers | ChatGPT |
Skill Support
Technology and artificial intelligence (AI) can help better prepare students for college-level coursework. AI provides resources to people who speak different languages or have hearing or visual difficulties. For example, with the help of google translator, students can read and hear in their national language which could increase their ability to learn and achieve good grades for college or skills for employment. For more interactive sessions, modern technologies like virtual reality (VR) and gamification are helpful (Kengam, 2020).
In a further endorsement of technology in education, the American Library Association (ALA) released "Leverage Libraries to Receive Digital Equity for All," which illustrates libraries' longstanding work to advance digital equity (Price, 2022). The ALA's federal program is making way for projects like offering a maker lab that includes software and hardware to support student options for experiential learning and spark innovation to further increase skills.
Enhanced Communication
Microsoft has made free bundles for students to work with on the go that will sync to any device that can use their Microsoft login. This makes for easier shares between group members and teachers. It also helps with storage needs and data recovery. While most of the product suite will work on both PC and Mac computers, there are a few products in the suite that are only PC friendly, such as Access and Publisher. The Microsoft tools aid communication, such as the need for students to send resumes to school counselors or potential employers.
Using Technology for Skill Development
There are several technology sources that school counselors can assist students with accessing for college-work preparation. One resource is Grammarly (https://www.grammarly.com/edu). This is a plugin that can edit spelling and grammar for school papers, blogs, emails, and other projects with ease. Many students appreciate Grammarly because it gives a dashboard of their progress and it is a tool that can be used after they graduate.
An additional tool proven to be a great resource is Canva (https://www.canva.com/education/students/). Many students are using the tool for presentation decks, proposal designs, websites, and more. Canva even has educational discounts and a division that solely focuses on educational needs. This product includes educational discounts, free resources, project ideas, and group collaboration templates. This tool can open up the students' imagination for many different assignments and projects.
By school counselors using these resources to guide students, both Grammarly and Canva can increase the students' written or visual communication skill levels in preparation for college coursework and/or employment.
Using Artificial Intelligence with High School Students
When working with high school students to prepare them for colleges, a controversial yet good use of AI is ChatGPT. This is an artificial language model that overall, has the potential to build equity in low-income communities by providing access to information, bridging language barriers, and engaging with communities in a meaningful way. These efforts can help empower students and give them the tools they need to succeed.
Here are a few examples of ChatGPT uses.
Access to information: provide access to information on a variety of topics, such as health, education, and employment, to people in low-income communities who may not have access to traditional information resources. ChatGPT can be used to answer questions and provide guidance to students who need reliable sources of information for school papers or career decision making.
Language access: help bridge the language barrier that exists for people who do not speak the dominant language in their community. ChatGPT can be trained to speak and understand multiple languages, which can help ensure that students in low-income communities can access information and services in their native language, which increases their ability to progress in school.
Community engagement: engage with people in low-income communities, providing a platform for people to voice their concerns and connect with resources. ChatGPT can be used to create chatbots that are tailored to specific community needs, providing a space for people to ask questions and get feedback on community issues, particularly those related to the education of students in the community.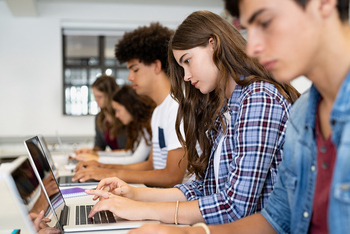 Post-Secondary Transitions and Successes
In summary, for many students, especially those from low-income, underserved high schools, technology can have a positive impact on their transition to the college classroom. School counselors can assist students with using various technology devices to support student learning and academic engagement to improve their postsecondary success and completion.
References
Canva. (n.d.). Canva for students. https://www.canva.com/education/students/
Kengam, J. (2020). Artificial intelligence in education. ResearchGate. https://doi.org/10.13140/RG.2.2.16375.65445
Government Technology. (2019). Can technology help guide students towards college success? Author. https://www.govtech.com/education/k-12/can-technology-help-guide-students-towards-college-success.html
Grammarly. (n.d.). Grammarly for education. https://www.grammarly.com/edu
Martinez Aleman, A. M., Rowan-Kenyon, H., & Savitz-Romer, M. (October 10, 2018). Using technology to help first-gen students. Inside Higher Ed. https://www.insidehighered.com/digital-learning/views/2018/10/10/how-use-technology-improve-success-first-generation-college
Price, G. (2022). New report from ALA: "Leverage libraries to receive digital equity for all". Info Docket. https://www.infodocket.com/2022/10/27/new-report-from-ala-leverage-libraries-to-receive-digital-equity-for-all/
---

Dr. Ouida McAfee (drouida.com) has over 20 years of experience in higher education provision, working as both an instructor and a college administrator, and designing educational programs with diverse delivery methods. She has co-authored academic publications and taught courses in business, management, and leadership, as well as being an experienced leader in development. Email: College4pay@mail.com

Dr. Aikyna Finch (aikynafinch.com) is an author, coach, educator, and TEDx Speaker. Email:aikyna@aikynafinch.com
---