08/01/2022
7 Steps for Helping Your Clients Build a Professional Online Portfolio
By Jill Boatright
Traditionally, a resume, cover letter, and reference list have been considered the three essential elements of a job application. Today, an online professional portfolio has been added to this list for many job applicants, especially those applying for positions in creative fields and/or roles. Career services practitioners may not be as well-versed in helping clients develop strategic portfolios as they are with resumes and cover letters. This article will give an overview of what a professional portfolio is and seven useful steps when assisting clients with developing portfolios.
What is an Online Professional Portfolio?
A portfolio is an ever-evolving collection that demonstrates an individual's past experience and skill level by showcasing the very best of their work. It is a part of the client's professional brand and marketing toolkit that provides visual evidence of their skills, aesthetic, and professional journey. In short, a portfolio shows the value a job seeker could bring to a potential employer. For example, a journalist's portfolio may highlight reels of audio and video clips, samples of published writing, and maybe even their blog or highlights from their social media accounts.
A portfolio is also an opportunity for the client to express their creativity and communicate with authenticity, two qualities lost in many job applications. With the growing prevalence of Applicant Tracking Systems (Hu, 2019), job applicants know they need to "beat the bot" (i.e., surpass the ATS deletion techniques) before their application materials can get into the hands of the hiring manager. In an effort not to confuse the machine and automatically land their application in the rejection pile before it ever reaches a human being, most applicants are forced to present their resume and cover letter with straightforward formatting, minimal or no color, and packed with as many key words and phrases as possible. An online portfolio is the job seekers opportunity to infuse self-expression into an otherwise formulaic application.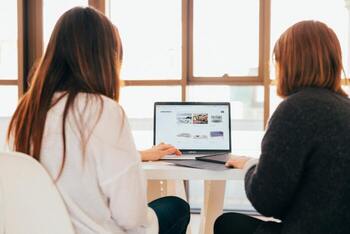 Assisting clients to build an effective, online portfolio as visual evidence of their skills is now an essential service for practitioners to offer clients. Here are seven steps you can use in an introductory appointment about portfolio building to help your clients strategically navigate the process.
Step 1: Research Examples
Before launching into developing an online portfolio, a client should spend some time looking at the portfolios of other individuals. Guide your client through the process of locating relevant, industry- specific portfolios. These can be identified with a simple Google search including the name of the field or job title and the words "online portfolio." If this doesn't produce enough examples, consider visiting the websites of target employers and identifying the names of the professionals that work in related roles. A link to their portfolios can typically be found on their bio page or LinkedIn profile.
When reviewing portfolios, encourage your client to pay attention to organizational structure, the type and range of works selected, and the overall aesthetic of the portfolios they admire. Spending time researching and looking at other portfolios will help your client make a game plan for their own portfolio, and ultimately save them time and frustration when they begin to build their own.
Step 2: Compile and Select Pieces
Over time, an individual's work samples accumulate and may be stored in various locations. Samples of work may come from previous jobs or internships, course assignments, freelance work, volunteer work, or even mock ups. Instruct your client to spend time compiling and organizing their array of works in one place. This will help them comprehensively evaluate and select their best pieces. When determining which pieces to highlight in a portfolio, encourage your clients to consider two things – quality and skills displayed. This will help to ensure that the range of work selected is high quality and demonstrates all identified skills that may be valued by the potential employer.
Step 3: Choose an Organizational Strategy
Once the client has determined which pieces to highlight, they should decide on the organizational strategy that makes the most sense for their selected works. Spend time with your client discussing the pieces they selected and why. Also, discuss the organizational strategies they considered best when conducting research. This will help your client process their work and make a decision about the organizational strategy that they want to utilize. Common organizational strategies include by project, by skill, by type of work, or by chronology.
Step 4: Select a Hosting Option
Once your client has compiled, selected, and organized their work, it is time for them to decide on a hosting option. Suggest your client explore several options before making a decision. Some common options include Wix, Adobe Portfolio, Squarespace, Weebly, CarbonMade, and WordPress, but there are many more. When considering which hosting option to select, urge your client to consider factors like cost, ease of use, industry standard, personal preference, overall aesthetic, and availability of templates.
Step 5: Begin Building the Portfolio
After completing steps 1-4, your client can start actually creating their portfolio. The research, benchmarking, and strategizing that has already taken place should make this step much simpler. Your client will begin implementing their organization strategy and adding their works to the selected hosting option. As they add their samples of work, encourage them to add captions to their pieces to give viewers the necessary context.
Step 6: Develop a Strategic "About Me" Section
While a portfolio is all about showing skills and abilities through samples of work, typically the most viewed page on a portfolio is the "About Me" page. This page is your client's opportunity to introduce themselves and their brand to the employers viewing their portfolio. In this section, many share their story by describing where they have been and where they want to go professionally. It is also a great place to detail accomplishments and link to their complete resume and LinkedIn profile. Encourage your client to use their own voice in this section and consider adding personal details to show their personality and connect with those reviewing their portfolio.
Step 7: Proofread, Edit, Remove
The final step in portfolio development may be the most important. Encourage your client to spend time proofreading and editing their website. Have them seek out their friends or colleagues to review the portfolio and share their thoughts and reactions. Ask them questions such as:
Are there any broken links?
Do embedded works function properly?
Is anything unclear or need more context?
Should anything be removed?
This final step will help ensure the portfolio is complete, clear, strategic, and error-free.
Revisit the Living Document
Following the seven steps outlined above will help your client craft an online portfolio that shows their value to a potential employer while infusing creativity into their job application. As your client finalizes their portfolio, remind them that it is a living document that should be revisited and updated regularly to ensure it continues to highlight their best work and demonstrate the skills necessary to move their career forward.
References
Hu, J. (2019). 99% of fortune 500 companies use applicant tracking systems. Jobscan. https://www.jobscan.co/blog/99-percent-fortune-500-ats/
---

Jill Boatright is a certified Global Career Development Facilitator and currently serves as Director of Career Development and Student Employment at Loyola University New Orleans. She previously worked in the career centers at the University of Virginia and Mercer University. A Virginia native, Jill received both her B.A. in Sociology and Foreign Affairs and her M.Ed. in Higher Education with a concentration in Student Affairs Practice in Higher Education from the University of Virginia. In her current role, Jill supervises a team of career center members, manages first-destinations data collection and reporting, oversees for-academic credit internship programs across campus, and sits on Loyola's QEP committee. She holds certifications in the Strong Interest Inventory and the Myers Briggs Type Indicator (Step 1 and 2). Currently, she serves on the Board of Directors for the Southern Association of Colleges and Employers (SoACE) and is the Chair of the Association of Jesuit Colleges and Universities (AJCU) Career Leaders group. She can be reached at jillkboatright@gmail.com.
4 Comments
Disclaimer: The opinions expressed in the comments shown above are those of the individual comment authors and do not reflect the views or opinions of this organization.
---