05/01/2011
Gender in the Labor Force: 1970 - 2009
By Marilyn Maze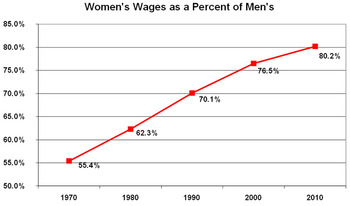 The labor force has experienced dramatic changes from the female perspective in the last 40 years. The table on the right, which compares the median income for all men who worked full time to that of all women who worked full time, shows steady progress for women. Women earned 55% as much as men in 1970 and earned 80% as much as men in 2009. What has caused this progress and can the gender gap be expected to close? Are gender differences in the workplace disappearing?
As women began to enter previously male-dominated occupations in the 1990's, researchers looked for nuanced reasons for the persistence of the wage gap. MacPherson and Hirsch (1995) believed that skills and preferences account for the wage gap. Boraas and Rogers (2003) determined that differences in compensation between men and women within the same occupation were primarily related to education and age. Gabriel and Schmitz (2007) concluded that, by 2001, pay differences between men and women resulted from voluntary choices. However, some researchers question the conclusion that observed differences are voluntary. Hill (2002) points out that many factors (such as balancing family demands and income needs) cannot be discerned from statistics collected by the U.S. government.
Economists often cite the human capital theory to explain the wage gap. According to Bielbly and Baron (1986), this theory explains that men and women choose to specialize in different jobs due to differences in family demands and training choices. Even when men and women choose the same occupation, women may have less training or experience and may spend less time in the labor market. Current Population Survey (a report published monthly by the U.S. Census Bureau)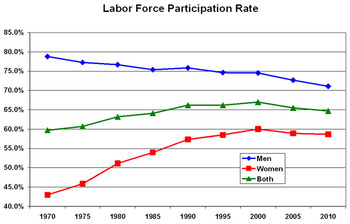 reports labor force "participation rate," the percentage of people between the ages of 16 and 65 who work. The graph at the left indicates that, during the last 40 years, there has been a substantial increase in the participation rate for women, from 43% in 1970 to 59% in 2009. The participation rate for men has slowly declined during this period, from 79% in 1970 to 71% in 2009. Thus, the participation rate of women in 2009 was 83% that of men and the gap is on-going. So women, on average, do spend less time in the labor market.
Educational attainment is another important factor in compensation. How do women compare to men in terms of the numbers of degrees earned? The graph at the right shows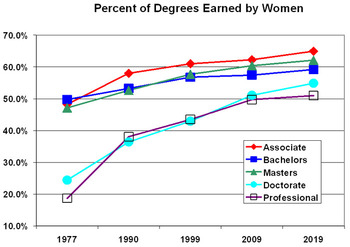 that, in 1977 (the earliest year for which this data is available), women earned close to 50% of the Associate, Bachelor, and Master's degrees, but a small percentage of higher degrees. By 2009, women predominated at all degree levels and projections to 2019 indicate that the feminization of higher education is expected to continue.
So have occupations become more gender balanced? The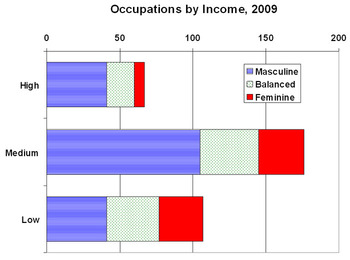 graph to the left is based on data from the 2009 Current Population Survey, which tracks about 500 occupations. These occupations were divided into Masculine (Less than 35% female), Balanced (35% – 65% female), and Feminine (66% - 100% female). They were also divided into High income ($60,000 or above), Medium income ($59,999 to $30,000) and Low income (Less than $30,000). Clearly, gender segregation is still prevalent and feminine occupations do not hold a large share of high income occupations.
To better understand the current wage gap, recent studies have identified more specific data sources. One study indicates that starting salaries offered to female physicians in 2008 were 83% of those offered to male physicians (Lo Sasso, Richards, Chou, and Gerber, 2011). Ceci and Williams (2010) looked closely at the underrepresentation of women in science and concluded that women choose slightly more family-friendly paths, and small differences early in a career led to significant differences in salaries as their careers progressed. A friend who is a professor of astronomy developed an index to measure academic "success" based on the number of first-author publications, all publications, citations of the scientist's publications, and number of years of post-graduate work experience. When he compared male astronomers to female astronomers, he found a significant compensation gap which could not be explained by this index. In the annual comparison survey published by the American Association of University Professors (2010), this discrepancy is also evident. For example, among faculty with a doctoral degree, women are paid 78% as much as men. Even for those women who have achieved the status of full professor, the wage gap is 91%. Universities would seem to be enlightened employers, but even there we see a wage gap.
Clearly, women have made great strides toward achieving parity with men in the labor force during the last 40 years. Women now form a larger share of the labor force and are now found at all income levels. However, the majority of occupations are still sex-segregated. While the percentage of women in occupations that pay higher salaries has steadily increased, there is still a noticeable wage gap between men and women. The wage gap shows evidence of persistence.
References
American Association of University Professors (2010). No Refuge: The Annual Report on the Economic Status of the Profession 2009-10. Academe, March-April (available at: http://www.aaup.org/AAUP/comm/rep/Z/default.htm)
Bielbly, W.T., Baron, J. N. (1986). Sex Segregation Within Occupations. American Economic Review, 76(2), 43-47.
Boraas, S., Rodgers, W.M. (2003). How does gender play a role in the earnings gap? An Update. Monthly Labor Review, March, pp. 9 – 15.
Bureau of the Census (1970). 1970 Census of the Population Supplementary Reports. Author (available at: http://www.census.gov/prod/www/abs/decennial/1970cenpop_pcs1.html)
Ceci, S.J. and Williams, W.M. (2010). Understanding Current Causes of Women's Underrepresentation in Science," Proceedings of the National Academy of Science (available at http://www.pnas.org/cgi/doi/10.1073/pnas.1014871108).
Hill, E.T. (2002). The Labor Force Participation of Older Women: Retired? Working? Both? Monthly Labor Review September, pp. 39-48.
Lo Sasso, A.T., Richards, M.R., Chou, C.F, Gerber, S.E. (2011). "The $16,819 Pay Gap For Newly Trained Physicians: The Unexplained Trend Of Men Earning More Than Women," Health Affairs 30(2), pp. 193-201.
MacPherson, D.A., Hirsch, B.T. (1995). Wages and Gender Composition: Why Do Women's Jobs Pay Less? Journal of Labor Economics, 13( 3), pp. 426-471.
U.S. Department of Labor (2010). Women in the Labor Force: A Databook. Author, Report 1026 (available at: http://www.bls.gov/cps/wlf-databook2009.htm)
---

Marilyn Maze, PhD, is a Principal Research Associate in the Career Transitions Research Department of ACT, Inc. At ACT, she guides the development of the DISCOVER online career guidance system and works on other occupation-related research activities. She is also Treasurer of the Maryland Career Development Association and Feature Editor for Career Convergence. She can be reached at mazemd@hotmail.com.
5 Comments
Disclaimer: The opinions expressed in the comments shown above are those of the individual comment authors and do not reflect the views or opinions of this organization.
---