03/01/2022
Graduate Peer Engagement in Career Development
By Fatim Lelenta
When picturing career support, career development practitioners often think about meeting with individuals and providing one-on-one assistance. All too often, career services professionals forget about the benefits of support groups and the value of receiving feedback from others. Group sessions provide an opportunity for small groups of individuals to meet and share common concerns, explore personal issues, and learn new skills under the facilitation of group leaders (Pyle & Hayden, 2015). This collaborative space between the student, their peers, and the facilitator creates a trusting environment for self-exploration – with others.
Scalability is becoming more important in higher education, and specifically within career services. In addition to the many benefits of group counseling, such as social support, practicing social skills increased self-efficacy, enhanced intrinsic motivation, group counseling is a cost-efficient means for reaching more individuals (Barclay & Stoltz, 2016). For example, if group support is included in required courses, students will no longer be expected to find and use these resources on their own. Flexibility in delivering services and creating communities will lead to increase connections (Dey & Cruzvergara, 2014). Career services can leverage the university network to bring everyone together to connect and collaborate in an environment where trust and influence can lead to opportunity and success (Dey & Cruzvergara, 2014).
Elements of Group Career Counseling
A group career counseling component may be ideal to simultaneously convey career-related information and facilitate personal development for college students (Rowell et al., 2014). When developing a group career program, researchers suggested that practitioners ensure the following elements are considered:
Career planning information about different occupations (resources for clients to explore)
Data about self (opportunity to conduct a self-assessment or complete a survey)
Opportunities for clients to reflect (explore different careers and roles)
Small group size of about 4 to 8 participants

These elements are what make group career support a space for students to learn new skills while they also process and reflect with others (Pyle & Hayden, 2015).
Goals of Group Career Support
Oftentimes, practitioners hesitate to incorporate group career services into their work because they are unsure of how to measure the impact or results. Studies show that group career counseling can be goal-oriented and aim to achieve the following: be a source of information (internally and externally); create trust between participants and develop tangible next steps; help participants feel less anxious and increase their career awareness (Pyle & Hayden, 2015). Group career support provides a structured way to explore careers and also address the whole person.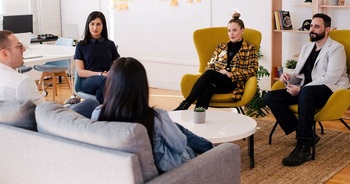 Group Support in Action: One Institution's Model for Graduate Students
The Graduate Career Development Team at New York University directly serves roughly 17,000 Master's, Doctoral, and Advanced Certificate students across 13 schools with a variety of disciplines. To build meaningful relationships with its diverse student populations, the Graduate Team used groups to create an additional supportive space for graduate students to connect, identify common themes in their experience and learn new strategies to overcome potential challenges.
Graduate students navigating the career development process face unique stressors throughout their academic and professional development that differ from undergraduate students. During their time at university, graduate students face a variety of developmental transitions, challenges, and milestones, and many of these decisions center around exploring, defining, and establishing career goals and plans (Rowell et al., 2014). University career centers provide various resources throughout the academic year to support graduate students – career fairs, workshops, alumni panels and industry-specific resources. However, graduate students can also benefit from opportunities that allow them to enhance their career awareness, address self-doubt and increase their comfort with decision-making. Furthermore, graduate students represent a variety of different identities including the following: international students, online students, and students with families, career-changers – and more. Conducting group career programming allows this diverse student population to engage in self-exploration with others.
Peers Do Careers
Peers Do Careers is a small group career program led by a trained staff member to provide personalized career support for graduate students. It is a space for graduate students with similar goals to share their concerns, learn from each other, and explore potential career paths. The purpose of the program is to help graduate students at a large university build relationships, identify potential barriers to their success, expand the career services team student outreach, and encourage peer-to-peer engagement. At the end of the program students are expected to: connect with fellow graduate students and build community in the virtual environment; identify and normalize the unique barriers of graduate students; and learn new strategies to overcome challenges from their peers and facilitator.
Each group meeting focused on a specific theme and topic. This included the following sessions: how to tell your story, interview and networking preparation, and developing a job search strategy. Sessions were an hour long and included interactive portions such as role-play activities, pair and shares, and mock interviews. Prior to the start of the session, the facilitator went through introductions and community guidelines. This helped to set the tone and ensured that students had time to connect and understand the purpose of the group. The facilitator then used prompts tailored to the topic and helped guide the conversation. Prompts used to move the dialogue included:
What makes you nervous about interviewing?
What do you find the most challenging about networking?
How do you imagine you would answer the question: "Tell me about yourself"?
The group discussion included formal and informal discussions, allowing students to share their experience and learned best practices from the facilitator. At the beginning of each session, the students were quiet and appeared nervous to open up. However, as the session progressed, students felt comfortable offering constructive feedback to one another.
The program also allowed students to engage in a peer activity in breakout groups. Students used this time to practice their pitch, evaluate sample resumes, and gain feedback on their career goals. After each breakout room session, participants convened with the larger group to have a debrief about the session and identify next steps. At the end of each session, participants were encouraged to stay in contact and support each other's goals.
Collecting Outcomes
Research suggests that it is imperative that consideration is given to obtaining data indicating the impact of various interventions. As a pilot program, obtaining both informal and formal feedback was critical to enhance the future sessions and understand the effectiveness of various techniques used. The participant satisfaction survey included a Likert scale (Agree Strongly to Disagree Strongly) and a space for written responses. When asked "What did you find most helpful?" students responded with the following:
"The group discussion was great and I also appreciated the coach. There was a good discussion on what context you tell your story."
"I think the aspects I really appreciated was having a small group so we could feel comfortable speaking up and asking our own questions, having a space to really sit down and think through what my strategy is, and connecting with new people."
"What I found most helpful was hearing others perspectives."

Overall, students appeared to benefit the most from engaging in career development conversation with their peers. Obtaining written responses allowed participants to reflect on their experience and provided the facilitator with a sense on what each participant experienced. Regardless of what type of survey is used, obtaining feedback immediately after each session is essential.
Groups Support Personal and Professional Development
Group support sessions are an effective format that can be used to aid career development needs of unique student populations. This was an innovative program, offering graduate students an opportunity to explore and normalize barriers to reaching their goals and build community outside of their programs. Career development practitioners can easily adapt this concept to create thoughtful, inclusive and strengths-focuses spaces for unique populations. University career centers can use group and peer engagement to support the personal and professional development of students – helping them succeed during their time at the university and beyond.
References
Barclay, S. R., & Stoltz, K. B. (2016). The life design group: A case study vignette in group career construction counseling. Journal of Student Affairs Research and Practice, 53(1), 78–89. https://doi.org/10.1080/19496591.2016.1087859
Dey, F., & Cruzvergara, C. Y. (2014). Evolution of career services in higher education. New Directions for Student Services, 2014(148), 5–18. https://doi.org/10.1002/ss.20105
Pyle, K. R., & Hayden, S. C. W. (2015). Group career counseling: Practices and principles (2nd edition). National Career Development Association.
Rowell, P. C., Mobley, A. K., Kemer, G., & Giordano, A. (2014). Examination of a group counseling model of career decision making with college students. Journal of College Counseling, 17(2), 163–174. https://doi.org/10.1002/j.2161-1882.2014.00055.x
---

Fatim Lelenta, M.S.Ed, LMHC, NCC, is currently an Associate Director of Career Coaching at NYU Stern School of Business supporting the personal and professional development of full-time MBA students. Fatim presented at the 2021 NCDA Global Conference on the benefits of peer-to-peer learning and collaboration on graduate professional development. As a career coach, licensed counselor, and former supervisor of graduate interns, she is particularly passionate about supporting graduate and advanced-degree students. Fatim has a Bachelor's degree in Psychology from Purchase College and a Masters degree in Mental Health Counseling from Fordham University. She is receiving her second Master's in Executive Coaching and Organizational Consulting from NYU. She can be reached at fatim.lelenta@nyu.edu
---