02/01/2022
Preparing Emirati Youth for the Future World of Work
By Hiba Khayata
Youth (ages 15-24) in the United Arab Emirates (UAE) represents more than 40% of the population. Like other countries, college students play a key role in the development and growth of the country (British Council, 2018; UAE Government, 2021a). According to the UAE National Youth Agenda (UAE Government, 2021b), preparing youth for the post-oil economy is one of the top priorities for the UAE. To that end, the government invested in career programs, trainings, and initiatives to empower youth with skills and resources to help them make informed decisions and prepare them to become future leaders. Several federal and private universities in the UAE started introducing tech-driven initiatives, such as artificial intelligence, data analysis, and robotics to increase student knowledge and prepare them to work in different fields that will rely on technology in the future (UAE Government, 2018; UAE Ministry of Education, 2021).
Career services at universities also play a major role in equipping youth with future skills, providing career readiness trainings, offering on campus jobs opportunities, and connecting students with companies to gain hands-on experiences. The American University of Sharjah is a noteworthy example of these career services. Ranked among the top 400 universities in the world and the top 10 Arab universities according to the Quacquarelli Symonds Top University rankings (2021, 2022), AUS has allocated a budget to establish career services/internship placement offices in a number of colleges/schools such as the College of Arts and Sciences (CAS), the College of Engineering, and the School of Business to prepare students better for the future world of work. The offices offer services tailored to students' needs and range from one-on-one career counseling, career preparation workshops, career assessments, job shadowing, volunteering opportunities, career events, and internship or job opportunities. For example, the Career Services Office at CAS was established in January 2021 during the COVID 19 Pandemic. The office adapted quickly to the COVID situation and managed to create online content, virtual career counseling sessions, webinars and successfully implement online interactions with students and employers. The CAS Career Services Office also manages the internship program. The career services team work closely with selected faculty members who are assigned as internship coordinators to develop and implement CAS internship manual and guidelines. Furthermore, the team manages the internship application process, conducts internship orientation sessions for students, and establishes partnerships with companies to help students secure internship or job opportunities.
To continue to achieve the UAE's national initiatives, career specialists at AUS engaged in ongoing collaboration with school counselors and business leaders. Collaboration was identified nationally as best practice and embedded in the cultural of the educational system in general (Abdo & Nichifor, 2019). Proactive partnerships resulted in innovative upskilling and quick adaptations to the changes in the labor market to best serve their students and prepare them for the future. These collaborative endeavors are described below.
Professional Development
Given their desire to advance students' career development, the UAE education authorities allocated more funding to hire and train qualified career counselors, purchase career exploratory resources, and organize career forums across educational systems. Last year, Abu Dhabi Department of Education and Knowledge's (ADEK) organized the first Abu Dhabi Counselors Forum (2021), a full-day virtual event designed to empower the emirate's career and university counselors with the latest industry expertise. High school career counselors and university counselors came together to exchange best practices. The forum represented real value to counselors that will immediately impact students, enabling them to make better informed higher education and career choices. After the event, participants reported that the forum was a great success. Attendees expressed a desire to attend more career counselors' events in UAE in the future so they could remain informed of best practices and latest industry trends.
Collaboration with the Private Sector
The UAE government and education authorities are aware of the importance of collaborating with the private sector as employers play a key role in shaping the curriculum and equipping youth with skills needed in the future workplace. Therefore, the UAE government worked closely with the private sector and involved organization leaders in the design and implementation of youth workforce development programs to match the demand of the job market and hiring needs.
Recently, the UAE governments launched the National Association of Federally Impacted Schools Program (2021) in collaboration with private sector employers to facilitate employment opportunities for fresh graduates and to increase the number of UAE nationals in their organization. The program is an official platform that has a number of features to support Emirati nationals seeking either to enter the workplace or to develop their careers. The program offers a number of features including career counseling, vocational training, job opportunities, and educational grants.
Another successful initiative that was launched and had a great impact on students is Wajihni, the National Internship and Summer Program, which is part of the Emitisation 360 initiative (UAE Ministry of Human Resources & Emiratistation, 2021). The program is a partnership between the Ministry of Human Resources and Emiratization and the Ministry of Education. It enables students to build their abilities and skills in line with the needs of the job market and the requirements of their future jobs. The Ministry also created Wajhni Application, a platform in both Arabic and English that enables students to get training opportunities that are related to their majors, access information about labor laws, or locate work placement/summer training opportunities offered by diverse companies.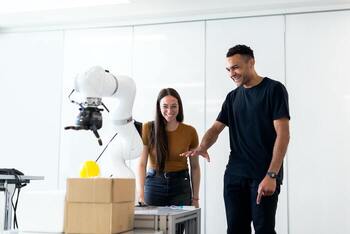 According to Abu Dhabi Sustainability Week's (2021) Future Skills 2030 Report, jobs that are related to artificial intelligence, robotics, automation, healthcare, sustainability and alternative energy will shape the skills required in future. Emirati youth need to be innovative, self-learners who are equipped with interpersonal, critical thinking, and problem-solving skills so they are able to standout and compete in the challenging future market. The UAE government continues to collaborate with the private sector, educational institutions, and other stakeholders to foster needed skills.
Changing World Labor Market
Like other countries around the globe, the UAE government needed to respond to the changing landscape of its labor market. UAE leaders invested in the career development of youth by engaging in innovative programming, collaborative professional development, and ongoing employer partnerships. Other career specialists can adopt similar approaches to adapt to dynamic changes they encounter within the world of work as well.
Career Convergence welcomes articles with an international connection.
References
Abdo, A. S., Nichifor, N. (2019, March). Collaboration road: Dubai's journey towards improved school quality. https://www.khda.gov.ae/Areas/Administration/Content/FileUploads/Publication/Documents/English/20190324160314_CollaborationRoad.pdf
Abu Dhabi Sustainability Week. (2019). ADSW future skills 2030 report. https://masdar.ae/-/media/adsw/the-week/youth-4-sustainability/adsw-future-skills-2030-extended.pdf
British Council. (2018). Future skills supporting the UAE's future workforce. https://www.britishcouncil.ae/sites/default/files/bc_futureskills_english_1mar18_3.pdf
National Association of Federally Impacted Schools. (2021). NAFIS Fall Conference. https://www.nafisdc.org/event/2021-nafis-fall-conference/
QS Top Universities. (2021). QS Arab region university rankings 2021. https://www.topuniversities.com/university-rankings/arab-region-university-rankings/2021
QS Top Universities. (2022). QS world university rankings. UAE Government. (2021, October). National youth agenda and strategy. https://u.ae/en/about-the-uae/strategies-initiatives-and-awards/federal-governments-strategies-and-plans/uae-national-youth-agenda-and-strategy
UAE Department of Education and Knowledge. (2021, May 5). ADEK's inaugural Abu Dhabi counselors forum unites major global education sector names. https://www.adek.gov.ae/Media-Centre/News/ADEKs-Inaugural-Abu-Dhabi-Counselors-Forum-Unites-Major-Global-Education-Sector-Names
UAE Government. (2018). National Agenda 2021: First-rate education system. https://www.vision2021.ae/en/national-agenda-2021/list/first-rate-circle
UAE Government. (2021a, August). Youth. https://u.ae/en/about-the-uae/the-uae-government/government-of-future/youth
UAE Government. (2021b, October). National youth agenda and strategy. https://u.ae/en/about-the-uae/strategies-initiatives-and-awards/federal-governments-strategies-and-plans/uae-national-youth-agenda-and-strategy
UAE Ministry of Education (2021, March). Quality education. https://u.ae/en/about-the-uae/leaving-no-one-behind/4qualityeducation
UAE Ministry of Human Resources & Emiratistation. (2021). Wajehni. https://www.mohre.gov.ae/en/wajheni.aspx
---

Hiba Khayata is a certified Holistic Life and Career Coach, youth engagement and relationship management professional with over 10 years of work experience in nonprofit organizations and the education sector. She is a graduate of Business Administration, majoring in the field of Accounting/Finance, from the American University of Sharjah. She managed several programs that focus on work readiness and youth empowerment through her work at Arizona State University, as a Program Director, and INJAZ UAE as Program and Corporate Relations Manager. Hiba recently joined The American University of Sharjah to manage the new Career Services Office at the College of Arts and Sciences. You may reach Hiba at hkhayata@aus.edu
---