02/01/2022
This Job is Driving Me Crazy: Career Coaching as a Cornerstone of Mental Health Treatment
By Elle O'Flaherty
Many clients begin coaching after making progress in therapy, at which point they tackle dissatisfaction in their occupation. One could infer that career coaching is the after effect of taking strides towards mental health. However, recent studies have shown that the feeling of being unable to leave a non-desired occupation (NDO) and/or workplace, known as either singly or doubly "locked-in," strongly correlates with adverse mental health outcomes (Canivet et al., 2017). Given this, mental health professionals are encouraged to routinely screen patients and make referrals to career coaches as a primary tool in addressing mental illness.

Non-desired Occupations as a Stress Driver
Twenty-eight percent of Americans say stress has a strong or very strong effect on their mental health, citing work as the second most common reported cause of stress (American Psychological Association, 2015). Concurrently, 36% of employees reported they were locked-in an NDO or undesirable workplace while 20% reported that they were double locked-in being in both an NDO and undesirable workplace (Aronsson et al., 2019). Researchers found that being locked-in increased the occurrence of mental illness for 18–35-year-olds and 45–54-year-olds by 14.2% and 11.6%, respectively (Canivet et al., 2017).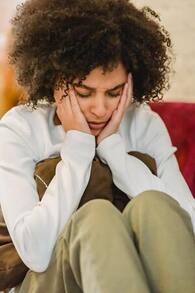 Treatment for Workplace Stressors
When government agencies provide guidance on workplace stress, they tend not to focus on the impact for the worker personally but rather on their productivity (Centers for Disease Control and Prevention, 2016). Suggestions from the Center for Disease Control and Prevention for assisting those suffering tend be limited to three areas:
Assess employees for well-being,
Discuss mental health with employees,
Offer Employee Assistance Programs and other interventions (Mental Health in the Workplace, 2019).
These suggestions put ownership of the problem on the worker as the epicenter of illness without ever asking if the workplace or job duties are underlying causes. There is clearly a need for organizations to reconsider how workplaces and job duties contribute to employee stress (Goh et al., 2015). At the same time, mental health professionals need to routinely screen patients through questions targeting NDO and feeling locked-in. Sample conversations may include:
Do you feel that you can move up in your career?
Do you enjoy your occupation?
If not, do you feel that you could easily change career paths?
Do you feel comfortable at your workplace?
If not, do you feel that you could easily move to another company?
If you do not enjoy your occupation and/or workplace, what steps have you taken to find a new position?
It is recommended that therapists establish referral relationships with career coaches for patients who are suffering from being locked-in.

Creating Motivation and Hope Through Career Coaching
Career coaching can provide the encouragement and strategy to alleviate NDO and locked-in occurrences. A critical component of feeling locked-in is the idea that one is not qualified for other jobs and cannot move to a new position (Stengård et al., 2016). Conversely, confidence in employability creates a sense of control and prevents the feeling of being locked-in (Stengård et al., 2016). In fact, a change from being locked-in to non-locked-in is correlated with a decrease in depressive symptoms (Stengård et al., 2016).

How can career coaches approach a locked-in client? Two important skills for any career coach are encouraging clients and guiding them in the development of a career plan (Brown et al., 2020). Coaches can:
Validate a client's feeling of not being a good fit for their occupation and/or workplace;
Show clients that they can use the skills they possess or retrain to move into other occupations and/or organizations;
Guide clients in developing a strategy and giving them tools to pivot their career;
Provide hope that change is attainable and motivation to do the work necessary to execute that change.
Coaching is a natural next step for patients suffering from mental illness who are found through screenings to be locked-in. Moving these clients from locked-in to non-locked-in could prove a critical component of their overall treatment.

As research continues to progress on the impact of unsuitable work and/or workplaces on employees, mental health professionals can view career coaches as important resources to alleviate the root cause of some of their clients' mental health challenges.

References
American Psychological Association. (2015, February). Stress in America: Paying with our health. https://www.apa.org/news/press/releases/stress/2014/stress-report.pdf

Aronsson, G., Taloyan, M., Westerlund, H., & Östergren, P. O. (2019). Associations between being 'locked-in' and health – An epidemiological study. Nordic Journal of Working Life Studies. https://doi.org/10.18291/njwls.v9i3.116057

Brown, A. L., & Marinaccio, J. N. (Eds.). (2020). Facilitating career development (revised fourth edition). National Career Development Association.

Canivet, C., Aronsson, G., Bernhard-Oettel, C., Leineweber, C., Moghaddassi, M., Stengård, J., Westerlund, H., & Östergren, P. O. (2017). The negative effects on mental health of being in a non-desired occupation in an increasingly precarious labour market. SSM - Population Health, 3, 516–524. https://doi.org/10.1016/j.ssmph.2017.05.009

Centers for Disease Control and Prevention. (2016). Depression evaluation measures. https://www.cdc.gov/workplacehealthpromotion/health-strategies/depression/evaluation-measures/index.html

Goh, J., Pfeffer, J., Zenios, S. A., & Rajpal, S. (2015). Workplace stressors & health outcomes: Health policy for the workplace. Behavioral Science & Policy, 1(1), 43–52. https://doi.org/10.1353/bsp.2015.0001

Mental Health in the Workplace. (2019, April 10). Centers for disease control and prevention. https://www.cdc.gov/workplacehealthpromotion/tools-resources/workplace-health/mental-health/index.html

Stengård, J., Bernhard-Oettel, C., Berntson, E., Leineweber, C., & Aronsson, G. (2016). Stuck in a job: being "locked-in" or at risk of becoming locked-in at the workplace and well-being over time. Work & Stress, 30(2), 152–172. https://doi.org/10.1080/02678373.2016.1163804
---

Elle O'Flaherty, JD, CPCC is an Executive Coach and Trainer who leverages 16+ years of experience as a Federal Attorney and hiring manager to bring clients the unique perspective of having been on both sides of the equation. She is the founder of Interlace Solutions (www.interlacesolutions.com), a boutique executive training and coaching firm delivering pragmatic and goal-oriented coaching and executive resumes. Elle received her JD from the William & Mary School of Law and holds a journalism degree from James Madison University. Elle can be contacted at elleoflaherty@interlacesoutions.com.
1 Comment
Disclaimer: The opinions expressed in the comments shown above are those of the individual comment authors and do not reflect the views or opinions of this organization.
---