02/01/2011
Preparing Students with Disabilities for Transition to College: A Framework Based on the PATH Model
By Ksenia Wojcieszek-Arjomand and Marie Helene Gosselin
In contrast to high school, where special education services such as special programming and accommodations are guaranteed (Janiga and Costenbader, 2002), students with disabilities (SWD) who are no longer in the K-12 public school system must take an active role to qualify for services under the Americans with Disabilities Act (ADA) by advocating independently for reasonable accommodation. Effective self-advocacy skills are thus a prerequisite to a successful transition to college. Self-advocacy refers to students' ability to promote and articulate their own need: acquisition of these skills promotes the experience of authenticity; characterized by a feeling that one is authoring the direction of one's life (Baerman & Dipeolu, 2009).
Unfortunately, these students, as reported by colleges, are lacking in these critical skill areas (Janiga and Costenbader, 2002). As a result, we present an 8-step framework based on the "Planning Alternative Tomorrow with Hope" (PATH) model, adapted from Pearpoint, O'Brien & Forest (1995) to help counselors assist students with disabilities in the establishment of an individualized transition plan (ITP) by age 16, as mandated by the IDEA (Scott, 1991, Rubin & Roessler, 2008, p.70) to establish a transition plan that will result in successful transition to college.
Self-advocacy in the ITP
A key component of the PATH model is the development and fostering of the self-advocacy skills. For SWD's, self-advocacy skills must be addressed in the broadest sense to encompass both self-awareness and self-realization (Shreiner, 2007). According to Hartman,(1993) this specifically includes the understanding of one's disability, awareness of one's rights, the ability to articulate a reasonable need for academic or physical accommodation and the ability to secure vocational services. Since SWD's must play an active role in college as compared to high school, (Shaw, Brincekerhoff, Kistler, McGuire, 1991) a recommendation of proactive development of self advocacy skills, early on, can increase their independence in this area, and lower stress related to the school to college transition experience. The use of the PATH framework has previously been adapted and presented for use by University at Buffalo's Model Transition Program, to help SWD's better prepare for college selection and succeed in the attainment of their academic goals.
The PATH to Success Model
The PATH to success in college takes students along an 8-step process that starts with the future in mind and guides students to establish a dream, set goals, develop their skills, acquire knowledge, establish a plan and take action. Counselors will need to introduce the model to SWD's promptly (between age 12-14) to allow sufficient time to establish an ITP by age 16 and to achieve key preparatory steps. We illustrate this process in figure 1 and describe eight critical elements of self-advocacy below: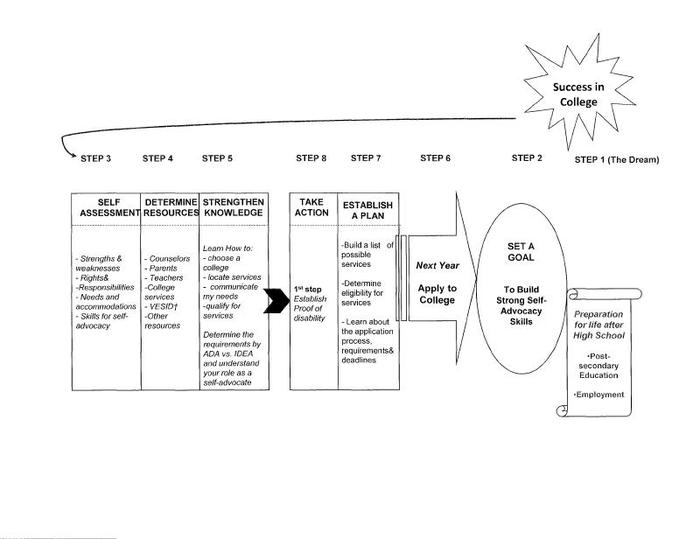 Figure 1. Guide to completing the ITP and preparing the SWD for post-secondary education.
Step 1: Consists of establishing a career/education dream, for example, attending college. This will provide direction and timelines for the ITP and help to determine transition goals.
Step 2: Counselors and SWD set goals. In our scenario, we selected the acquisition of solid self-advocacy skills as a goal. This includes related discussion between counselor and student about the meaning and role of self-advocacy in a successful college career and transition. Step 3: Involves the initiation of an ongoing process of self-assessment with respect to one's self awareness (strengths/ weaknesses / needs for accommodation and/or resources) and self realization skills (their responsibilities and their right to community resources and reasonable accommodations).
Step 4: The SWD identifies resources to help SWD accomplish their goals. This includes individuals who can assist them as well as agencies or funding resources. As they proceed with preparing to apply for college in step 5, students strengthen their self-advocacy skills further.
Step 5: In collaboration with their support network, SWD learn how to select a college, locate disability services, communicate their needs, as well as how to handle issues of disclosure.
Step 6: Involves setting a target application date which supposes that the student can identify and prioritize the sub steps he/she needs to take to prior to an application This is accomplished in Step 7,
Step 7: The student sets a 3 month plan that includes the following components; research and creation of a list of colleges, their respective services and application requirements (deadlines, transcripts etc) identification of qualification criteria for eligibility to state vocational and educational services for individuals with disabilities VESID and for reasonable accommodation as per the ADA.
In the final Step (8), the SWD commits to acting on one of the critical steps outlined in Step 7: which is a prerequisite to service access i.e. establishing proof of disability.
This framework provides structure for students and counselors to establish a tangible plan. It's use in career counseling settings will help guide counselors and SWDs and ensure that students identify and address shortcomings in a timely manner and, in the process, become strong advocates for themselves in securing all resources available to them to ensure their success in college and life.
References
Baerman, N. & Dipeolu, A.O. (2009). Self-advocacy and Self determination skills for LD students: Career counselors can help. Career Convergence.
Brinckerhoff, L.C. (1996). Making the transition to higher education: opportunity for student empowerment. Journal of Learning Disabilities, 29, 118-136.
Garison-Wade, D.F., Lehamann, J.P. (2009). A conceptual framework for understanding students' with disabilities transition to community college. Community College Journal of Research and Practice, 33, 415-443.
Janiga, Sandra J. and Costenbader, Virginia (2002). The transition from high school to postsecondary education for students with learning disabilities: A survey of college service coordinators. Journal of learning disabilities (September/October) vol. 35:5, 462-468, 479.
Pearpoint,Jack, O'Brien John and Forest, Marsha (1995 PATH: A Workbook for Planning Positive Possible Futures, Inclusion Press, 24 Thome Cres., Toronto, Ontario, Canada
Rubin, Stanford E. & Roessler, Richard T. (2008). Foundations of the Vocational Rehabilitation Process 6th edition. Pro-ed. Austin, Texas. USA.
Schreiner, M.B., (2007). Effective Self-advocacy: What students and special educators need to know. What works for me. Intervention in School and Clinic, (42)5, p. 300-304.
Scott Sally A. (1991) A change in Legal Status: An Overlooked Dimension in the Transition to higher education. Journal of learning disabilities, vol.24, No. 8, 459-466
Smith, S.G., English, R., Vasek, D. (2002) Student and parent involvement in the transition process for college freshmen with learning disabilities. College Student Journal. 36(4), 491-504.
---

Ms. Ksenia Wojcieszek-Arjomand, M.S., is a doctoral student in the Counselor Education program at the State University of New York at Buffalo with a focus on rehabilitation counseling. She recently obtained a position as an Immigrant Workforce Counselor at the Department of Labor. Her most current research interests include career development with regards to a multicultural and diverse population, return to work transition, and work appreciation issues. She holds a MS from SUNY, University at Buffalo in rehabilitation counseling and a MS from Poland in therapeutic pedagogy. She can be reached at kw53@buffalo.edu.

Mrs Marie Helene Gosselin is a graduate of the University of Ottawa's Occupational Therapy Department (1993). Mrs Gosselin obtained an MS in Natural Sciences at Roswell Park Cancer Institute (Buffalo, NY) with a focus on Health Behaviors (2008) and recently completed an MS in rehabilitation counselling at State University of New York at Buffalo. Relevant clinical experience includes adjustment to injury issues in spinal and head trauma as well as chronic pain counseling (Erie County Medical Center's rehabilitation clinic, Buffalo, NY). Research interests include psychosocial adjustment to acquired disability chronic illness. Topics of interest include return to work transitions, imposed career and/or academic change and aspects of job tenure in cancer survivors. Email:
mhg4@buffalo.edu or gosselinmh@gmail.com
---