06/01/2021
The Power of Peer Connections and Learning through Cohort-Based Career and Professional Development Groups
By Satomi Yaji Chudasama
In recent years, more students failed to demonstrate accountability, including no-shows for programs, campus interviews, and pre-boarding sessions for internships or full-time positions. Career development professionals are well positioned to help students realize the importance of commitment and accountability. Moreover, some students perceived their classmates as competitors during internship or job searches. Perhaps if students supported each other instead, they would feel less isolated in their search and may even refer each other for job opportunities or professional networking.
Given these observations, the staff at the Center for Career Development at Princeton University decided to adopt the high-impact educational practices (Kuh, 2008) that were associated with increases to student learning and engagement. In addition, the group format is also believed to enhance career awareness and self-confidence while reducing anxiety (Pyle & Hayden, 2015). Career development professionals can learn from Princeton's implementation process to replicate this program on their own campuses.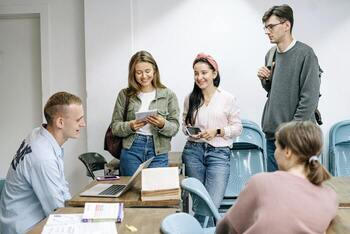 Goals of the Cohort Group Model
The principal goals of Princeton's model included the following:
foster a support system that empowered students to own their career development process
provide a forum and opportunity for like-minded students to learn from each other
help students practice accountability.
Cohort groups were created based on criteria such as skill-development, self-exploration, industry/career-interest, demographic/affinity (e.g., class level, majors, personal identities), and professional development. Some of these criteria deliberately overlapped across groups, including interviewing skills for first-generation/low-income students, self-exploration for nontraditional students, and job search for seniors. Other cohorts were open to any students interested in the topic, such as the introduction to networking and women's empowerment groups. The optimal size of each group was six to ten students, which was large enough to foster a support system while small enough for students to feel comfortable with sharing their experiences and vulnerabilities.
Roles of Group Facilitators
Typically, two cohort group leaders facilitated each group. These individuals provided structure and guidance to the group while encouraging and respecting organic development of student interactions during meetings. They developed learning objectives, rough outlines for meetings, ice-breakers, and some questions to guide group conversations. Those questions included exploration of students' feelings, thoughts, and experiences. To create a safe environment, each group discussed rules they wanted to adopt besides standard ground rules. Many students reported in post-meeting surveys that they realized they were not alone and felt comfortable in the group. Some of the groups matched students and alumni volunteers so that students could practice interviewing and networking skills. Some alumni volunteers offered additional help and continued their dialogues with students on an ongoing basis. Ensuring student learning and development was an important part of facilitators' roles. Cohort group facilitators participated in routine training and meetings to discuss best practices and new ideas.
Duration of Sessions
As for the length of each group, the duration was designed to accomplish goals in three to four weeks. This itinerary accommodated students' busy schedules while setting realistic expectations for their attendance accountability. Group facilitators also encouraged students to stay in touch with each other to continue their conversation beyond the initial time-frame if they wished.
Assessment of Learning
To assess learning, participants were required to complete pre- and post-meeting surveys. Pre-meeting surveys focused on skill and knowledge levels based on learning objectives. Group facilitators also asked about students' feelings and comfort for group topics. Pre/post surveys measured students' experiences and explored additional feedback. As needed, career specialists offered additional feedback, opportunities, and individualized assistance.

The power of this cohort group model was evident through students' verbal feedback and reflection in the closing meetings, as well as surveys. For instance, pre- and post-meeting surveys for two "Introduction to Networking" cohort groups this past fall revealed all participants increased the levels of knowledge and comfort in networking. As an example, the mean for the knowledge of various ways of networking on a five-point Likert scale increased from 1.9 pre-meeting to 4.0 post-meeting. Similarly, the comfort level of going through informational interviews increased to a 4.1 average from a 2.1 on a five-point Likert scale. Nearly 100% of respondents indicated on a post-survey that they would recommend these groups to other students.

Impact to Students and Beyond
Both qualitative survey data and verbal feedback reflected the change in participants' mindset and behavioral habits, as well as their positive perception of the office. When Princeton University shifted to fully virtual instruction in response to the Covid-19 pandemic, cohort group activities also transitioned to online. A few students indicated that their decision to join cohort groups was driven by their desire to feel part of a community. Three cohort groups this past fall semester also provided a way for first-year students to have a sense of belonging and connection to the career office as they virtually went through the first semester at Princeton. They were grateful for the opportunity to meet new people through cohort groups while developing career development knowledge and skills. In short, these groups proved to be impactful not only in person, but also in a virtual environment. Most importantly, the model positively impacted student learning, accountability, engagement levels, and community building.
References
Kuh, G. (2008). High-Impact Educational Practices: What They Are, Who Has Access to Them, and Why They Matter [E-book]. https://www.aacu.org/node/4084

Pyle, K. R., & Hayden, S. C. W. (2015). Group career counseling: Practices and principles (2nd ed.). National Career Development Association.
---

Satomi Yaji Chudasama, NCC, CCC, GCDF is Senior Associate Director for Student Engagement at the Center for Career Development at Princeton University. Her 20 years of experience in the career development field spans career advising, programming, external relations, management of peer career adviser programs, and assessment. Her involvement with NCDA includes inaugural member and former co-chair of the International Student Services Committee as well as the Leadership Academy. She is currently serving as President-Elect for the Asia Pacific Career Development Association. Satomi can be reached at syc88@princeton.edu.
2 Comments
Disclaimer: The opinions expressed in the comments shown above are those of the individual comment authors and do not reflect the views or opinions of this organization.
---