09/01/2020
Guides on the Side: Taking the Stress Out of the College Major Decision-Making Process
By Tricia Zelaya-Leon
"Major matters." This message is all too often shared with high school students and the guidance counselors who advise them. A college major certainly matters, but it is not the only thing that matters. Typically, the college student's response to a question about their intended major is rarely a simple one; even for those with a declared major, it can represent a stress-inducing aspect of their identity. Data shows that college students feel high levels of anxiety associated with the selection of a major, and those who declare a major too early may feel even more anxious about their future career plans (Pisarik et al., 2017).
But what do employers say? For many recruiters, the college major represents just one piece of the overall hiring puzzle; academic skills may not be as critical for college graduates as work experience (Thompson, 2014). Additionally, the unpredictable nature of the future workplace requires versatility, regardless of major (Gubler et al. 2014).
How and When to Declare a Major
Given that the Purpose First strategy from Complete College America (2019) implores institutions to provide focused pathways for informed major choice, Rollins College in Florida allows undergraduates to wait until the end of their second year to officially declare a major. This way, students can take the time to purposefully explore and research majors and sample multiple courses that will lead to a decision they can feel more confident about.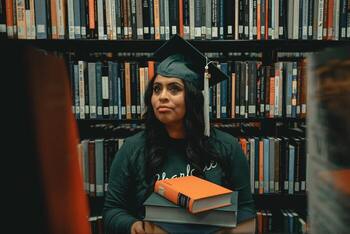 Confidence may be the key. It may not matter exactly when a student declares a major, but how they declare it (Lewallen, 2013). If a student is given time to research multiple majors, take courses related to those majors, and receive helpful guidance from a variety of sources, then their sense of empowerment, and thus confidence, can strengthen (Lewallen, 2013).
Using Peer Mentors for Successful Transitions
Like many colleges, Rollins enrolls all new students in a first-year seminar wherein students have access to peer mentors trained to help first-years make a successful transition from high school to college. Where Rollins has innovated is in placing a new position, the R-Compass Peer Mentor, into a required second-semester course, in the general education program. The campus is on a lake that used to be a naval base, so much of the branding is nautically-themed; the compass serves as a directional guide, as does the R-Compass Peer Mentor.
The overarching goal of the R-Compass Peer Mentor program is to strengthen the first-year experience so that students feel prepared for the transition to their second year. These mentors are trained to provide general academic guidance regarding
the liberal arts ethos
developing an academic plan
major exploration,
career and life planning
academic success strategies.

So far, the R-Compass Peer Mentor program has experienced initial success. In quantitative surveys administered to students at the end of their second semester, first-years report that their mentor cares about them, they trust them as a helpful resource, and that, because of the R-Compass Peer Mentor's guidance in the second semester, they are more knowledgeable about the general education curriculum than they were at the beginning of the year.
The collaborative nature of this program is also a strength. The Director of Career Development and the Associate Dean of Academic Programs work closely together to ensure its success. R-Compass Peer Mentors are trained to serve as 'guides on the side,' engaging students in intentional conversations about post-graduate success. Faculty support these discussions while also leveraging the marketability of the liberal arts ethos.
Currently, 25 R-Compass Peer Mentors receive four elective, academic credits for their work; they earn two credits for participating in a week-long training and then they earn two additional credits for completing one-on-ones, study group sessions, and large-scale programming with their mentees. Finding further ways to more actively engage the R-Compass Peer Mentors in their mentees' classes is a long-term goal.
Institutions committed to adapting this model to their campuses may find success by surveying students to inquire about gaps in their current first-year experience programs: are there opportunities for a re-imagining of an existing peer mentor program? Leveraging a strong partnership with academic affairs also provides a key point of entry for a program of this scale to flourish.
Intentional Support Systems Reduce Stress
Over the past two years, Rollins College has committed to enhancing the experience for all first-year students. By infusing into a required course an R-Compass Peer Mentor focused primarily on post-graduate success, first-years learn that they are in control of their career and life decisions. Problem-solving and thoughtful decision-making are key competencies that employers seek in new college graduates (NACE, 2020). Arming students early with intentional support systems can ultimately prepare them for meaningful lives and productive careers.
References
Complete College America. (2019). College, on purpose. https://completecollege.org/purposefirst/
Gubler, M., Arnold, J., & Coombs, C. (2014). Organizational boundaries and beyond: A new look at the components of a boundaryless career orientation. Career Development International, 19, 641–667.
Lewallen, W. C. (2013). Students decided and undecided about career choice: A comparison of college achievement and student involvement. NACADA Journal, 15(1), 22-30.
NACE Staff. (2020, January). Key attributes employers want to see on students' resumes. NACEWeb. https://www.naceweb.org/talent-acquisition/candidate-selection/key-attributes-employers-want-to-see-on-students-resumes/?utm_source
Pisarik, C., Rowell, P., & Thompson, L. (2017). A phenomenological study of career anxiety among college students. The Career Development Quarterly, 65(4), 339-352.
Thompson, D. (2014, August 19). The thing employers look for when hiring recent graduates…isn't something that can be done on campus. It's an internship. The Atlantic. https://www.theatlantic.com/business/archive/2014/08/the-thing-employers-look-for-when-hiring-recent-graduates/378693/
---

Tricia Zelaya-Leon earned her Ph.D. in Higher Education and Student Affairs from The Ohio State University in 2011. Her teaching and research interests focus on student identity development theory, the development of second-year college students, engaging students in transition, and infusing career preparation into the academic curriculum. As the Director of Career Development, Dr. Zelaya-Leon oversees Career Center staff who provide personalized guidance on career discernment, employer engagement, and post-graduate success. She can be reached at tzelayaleon@rollins.edu
---