09/01/2020
Heeding the Call of Transition: Helping Clients Move Past Fear and Resistance
By Alyssa Yeo Jones
Joseph Campbell, American mythologist and scholar, perceived life transitions as a "call to action" from the universe. He believed that we receive several calls during the course of our lives, with each one posing a threat to security or disrupting the comfort of our ordinary worlds, often resulting in our resistance to change. Campbell believed that if individuals move past that resistance—which is, essentially, manifested fear—and fully commit themselves to the adventure of transition, they uncover insights that move them closer to reaching their full potential. (Campbell, 2003)
As career development professionals, we understand the "adventure" of transition, whether we consider transition to be a "calling" or simply the consequence of voluntary or involuntary life circumstances, such as job loss or desire for more fulfilling work. Transitions force our clients to question their current life situations and career goals and may require them to adjust their plans and adapt. It can be difficult for clients to find peace during the transitional phases of life. The uncertainty of not knowing what is next can breed anxiety, fear, depression, and other uncomfortable emotions.
Part of our job is to help clients embrace transitions and challenges and see them as opportunities. Their success will depend on confronting their fears, trusting themselves, embracing change, and being flexible.

Confronting Fear
Where you stumble, there lies your treasure. The very cave you are afraid to enter turns out to be the source of what you are looking for. (Campbell, 2011, p. 24)
The same thoughts and feelings that drive a desire to change are what stop someone from doing so. Therefore, clients must identify and name their fears as part of the work toward overcoming them. Some questions to ask your clients include:
Are you afraid you are going to fail?
Do you fear you will not be able to accomplish your goals in the time you expected?
Are you worried what others will think of you?
Do you fear the consequences of your next decision?
To move forward, clients have to commit to their journey and overcome the fears that make them feel helpless, which means confronting themselves.
Trust Yourself
Follow your bliss. Find where it is, and don't be afraid to follow it. (Campbell & Moyers, 1988, p. 120)
It is common for clients to base all their future decisions on the conditions of their life right now. Clients need to realize it is not possible to know what is behind the door in front of them until they open it. And chances are, once they open that door, they will see more doors waiting to be opened.
As career professionals, we must remind clients that they have choices and that they can always make another decision. As John Krumboltz addresses in his theory of planned happenstance (2009), we should encourage our clients to be explorers in their own world and to be open to opportunities that may present themselves, even if they do not make sense at the time. The process of getting to an ultimate goal is not linear, and it is important to trust in themselves and the process as they navigate their career journey.
Embrace Change
Opportunities to find deeper powers within ourselves come when life seems most challenging. (Campbell, 2011, p. 20)
When clients are presented with a new situation that requires them to change their direction and behaviors, encourage them to think about all the ways the change can positively impact their life. Individuals may find peace in being able to prepare for what is next, even though they cannot predict the future. Clients may spend a lot of time and energy on all the "what if" scenarios, which gives a false sense of preparation and control.
This rarely prepares someone for the future and ends up being a waste of time. Instead of focusing on what could go wrong, encourage clients to acknowledge that it is possible things could work out in their favor. Since they cannot possibly know what will come from the change before it happens, why assume the worst? Challenge their need to prepare and their tendency to dwell on all the possible negative outcomes. Help refocus their attention instead on what they know to be true in this very moment by asking the question, "What are the facts?"​ This may instill confidence that they are prepared to handle whatever comes next.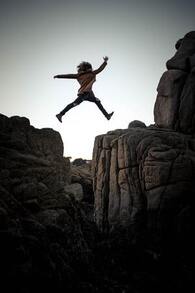 Be Flexible
We must let go of the life we have planned, so as to accept the one that is waiting for us. (Campbell, 2011, p. 18)
Clients often have expectations regarding what they "should" be doing and what their life is "supposed to" look like. These may have been established many years before and were part of a linear career plan. Krumboltz (2009, p. 136) states, "I do object to requiring other people to make occupational plans when they are not ready to do so, and I especially object to the notion that people have to stick with an unsatisfactory occupation just because they had declared it at one time to be their goal."
We can challenge the idea that careers should be linear and fixed, and instead encourage clients to take time to explore their interests and be open to considering different paths. Many of the best things in life are unplanned, and it can be helpful to have clients reflect on all the surprise developments in their career journey that ended up leading them somewhere they needed to go. We can give clients permission to let go of some of the rules and plans they have for themselves and show them that rewards come when you exist outside your limitations.
References
Campbell, J. (2003). The hero's journey: Joseph Campbell on his life and work (Vol. 7). New World Library.
Campbell, J. (2011). A Joseph Campbell companion: Reflections on the art of living. Joseph Campbell Foundation.
Krumboltz, J. (2009). The happenstance learning theory. Journal of Career Assessment, 17(2), 135-154. http://jca.sagepub.com/cgi/content/abstract/17/2/135
Campbell, J. & Moyers, B. (1988). Joseph Campbell and the power of myth. Doubleday.
---

Alyssa Yeo Jones, LPC, GCDF, is a psychotherapist and career counselor in Denver, Colorado. Since 2013, she has worked with a diverse range of clients in her private practice Corework Counseling, providing guidance and support in all areas of professional and personal life. She can be reached at alyssa@coreworkcounseling.com.
2 Comments
Disclaimer: The opinions expressed in the comments shown above are those of the individual comment authors and do not reflect the views or opinions of this organization.
---