08/01/2020
Insider Tips for Creating a Successful Virtual Event
By Aimee Tejeda Lunn
In Spring 2020, with the onset of COVID-19 restrictions, the Washington State University Carson Center for Student Success Career Team evolved our student engagement from in-person to remote support. We responded to the social distancing mandates by creating virtual events as the next logical step to support professional development and informational programming for our student population with employers. Janine Perri from Ripplematch describes virtual info sessions as a "way to introduce prospective candidates to many different aspects of… business… rather than just having them read about it" (Perri, 2019, para. 8). We found that Zoom, a video conferencing tool, expanded our communication abilities and increased the impact of career learning opportunities across a more extensive campus population. Here are five insider tips to keep in mind when developing a virtual event. For clarity in this article, we will refer to "presenters" as employers or other content specialists and "participants" as the key target audience (students, clients…etc.) while highlighting the details to consider when creating a virtual career activity.

1) Establish the Goals
"Why" is the most critical question to ask when first considering an info session or panel activity. Is the main goal to convert an established in-person event to a virtual platform? Is the activity mission-driven or for programmatic reasons or both? Is it a response to increase access to more students or fulfill a present need? Is it student requested or due to a helpful presenter suddenly being available? A clear set of goals or outcomes will drive the career practitioner's vision of the virtual session, provide clarity to presenters, and guide the logistics involved.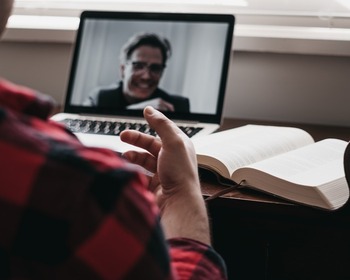 2) Understand The Audience
First, consider participants' access. Can they attend the virtual event? Do they have access to the essential resources (internet, digital device, Zoom platform, email) to participate in a virtual activity? In our case, the campus had invested in Zoom access for all providers and participants. Next, consider the event's intent. Sometimes an enthusiastic presenter may reach out to the career center, but will their content align well with the student key demographic at the current time? It is essential to consider whether the topic resonates with the intended group. On the employer relations side, does the proposed virtual session meet the presenter's intentions? Lastly, it is important to communicate honestly with a presenter on a timeline, and give content feedback, so they shape meaningful interactions with participants. Another planning idea-- consider having an alumni, who has professionally transitioned to a related industry, present to the intended participants. The National Association of College of Employers (NACE) states that "(s)tudents can make a connection, especially if (it is) someone they know or who has recently been in their place…someone they can relate to—and not just a 'talking head" (NACE, 2018, para. 6).

3) Everything. Takes. Forever.
Consider logistics and timeline carefully. How much time does the career team need to connect and identify an employer with relevant content? Does the employer need time to create content for a virtual platform? Set aside a longer window of time, a few weeks ahead of the event, for example, to dedicate time for planning and marketing. Utilize immediate sources at hand, such as communication platforms (Handshake, MailChimp, Constant Contacts, Social Media, Outlook), your colleagues, and other career specialists in your network, to develop and promote these opportunities. Overall be flexible but plan for delays by allowing extra time for logistics, creating communication, and marketing.
4) Work Collaboratively with Other Career Providers
Consider bringing in other career service professionals to collaborate on creating student programming. With a few short inquiries, it may be possible to identify someone in another department or college planning a similar idea. NACE also suggests "(t)o…enlist the help of the career center to support you by… sending the names and contact information (to) leaders of student organizations and associate deans of programs that are specific to (that) industry." (NACE, April 2018, para 10). Collaboration can not only make this process less front-heavy for both career service providers but possibly expand the impact of the singular opportunity. Colleagues might have insights on how to market or know of other interested industry connections. Even if they do not join the event, a mutual connection may lead to reciprocal information on resources and best practices that, many times, prove mutually beneficial to both career service providers.

5) Trial and Reflection
Despite all the thoughtful planning, all events have unexpected challenges. For example, technical issues may present themselves in real-time while hosting a virtual event. Marketing challenges can manifest when a more recognized branded corporation overshadows a lesser-known company, affecting attendance. Lastly, realizing that despite all careful planning and having registered attendees, few participants showed up to the scheduled virtual event. It is crucial to reflect on what did or did not go well at a virtual event. As with any new medium, only trial and reflection will improve the next experience for the participants and presenters. Consider creating a brief survey to share with participants post-event or follow up with the presenter to thank them and ask for their insight on how they think it went. Rest assured that any adaptive effort to provide and improve virtual engagement activities will increase a provider's impact and expand professional development access during these socially distanced and evolving times.

References
Carson Center for Student Success Career Team. (2020). Supporting the launch of the next Carson coug. https://business.wsu.edu/next-carson-coug/
NACE Staff. (2018). Offer insights students want for effective info sessions. https://www.naceweb.org/talent-acquisition/best-practices/offer-insights-students-want-for-effective-info-sessions/
Perri, J. (2019). A guide to virtual recruitment events: What they are and how to approach them. https://ripplematch.com/journal/article/a-guide-to-virtual-recruitment-events-4bd869ff/
---

Aimee Tejeda Lunn, MM. Ed, is the Industry Connections Coordinator for the Carson College of Business at Washington State University, within the Carson Center for Student Success. https://business.wsu.edu/next-carson-coug/ Immigrating from the Dominican Republic, she grew up on the East coast, where she received her master's degree from the University of Massachusetts Lowell. Ms. Tejeda Lunn holds experience in music education, career development, event coordination, employer relations, and program development. She can be reached at https://www.linkedin.com/in/aimeetejedalunn/ or aimee.lunn@wsu.edu
3 Comments
Disclaimer: The opinions expressed in the comments shown above are those of the individual comment authors and do not reflect the views or opinions of this organization.
---