06/01/2020
Career Autobiography Reflections
By Aaron H. Oberman and Lindsay Harman
Taking time to reflect on the career journey is a helpful strategy for graduate students in counselor education programs to learn about career counseling and development. It is important for graduate students to reflect on their own career paths, including how they decided on a career in the counseling profession. Likewise, graduate students can use this simple but powerful strategy as an assessment tool when working with their clients as professional counselors.
A Counseling Tool
Graduate students in counseling programs are not necessarily studying to be career counselors and may not see the purpose of learning a career counseling tool. Counselor educators may need to explain that in counseling sessions, the problems presented by the client may not initially appear to be career-related; however, many problems connect to career/work when professional counselors dig a little deeper into the concerns. In these cases, a career tool, such as the career autobiography may be useful. Researchers have found career autobiographies to be an effective measurement of changes in career choices and commitments over time (Rehfuss, 2009; Rehfuss & Di Fabio, 2012). This can be especially impactful for graduate students who are simultaneously learning career theories and synthesizing their own understanding of the career development process. Take for example the case of a middle-age woman who is depressed and feels she has no clear purpose in life, now that her last child has graduated from high school. As the counselor gathers more information from the intake assessment, s/he realizes that her sadness is not only the result of having an empty nest, but also that she is wanting to get out of the house and find meaningful work through volunteering or a new career path. Perhaps she had limited time and energy to explore her interests and values during her time as a stay at home mom. Any previous part-time work had to revolve around her children's schedules. However, she now finds herself in the predicament of identifying her next steps. A great place to start would be generating her career autobiography and exploring what her prior career aspirations might have been, as well as work that might have sparked an interest over the years.
Multi-purpose Course Assignment
As counselors and educators, we have found the career autobiography to be one of the most meaningful assignments to help graduate students discern their career journeys by making direct connections to the career counseling theories. This assignment has worked well in face-to-face, blended, and 100% online class formats. In this multi-purpose assignment, students are expected to: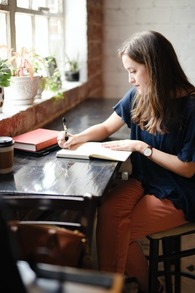 Take a few minutes to think about and reflect on their own career path and formulate 3-4 key points that stand out as part of their career development. Often key points are such things as career-related play as a child, summer jobs, or internships, or previous careers/jobs.
Write an autobiography focusing on three specific career interests and/or previous jobs/careers over their lifetime to present.
Apply major constructs from at least three career counseling theories to their autobiography.
Analyze how each theory connected to their overall career development.
In a graduate-level career counseling class, the career autobiography is completed around the midterm. The assignment should take students around four hours to complete including reflecting on their career path, typing a 3-5 page double spaced paper, and making connections to career counseling theories. To begin thinking about their career development, students should reflect on their earliest career-related memory, such as playing teacher with stuffed animals and dolls. Some students have chosen to begin with this first memory, while others selected another time, such as high school graduation, to begin the essay.
The main purpose of the assignment is for the students to develop meaningful connections to their own career paths. The second main component of this assignment is for students to include extensive connections to the different career counseling theories. Key concepts from at least three different career development theories may come from the domains of
Trait oriented theories (i.e. Holland);
Developmental theories (i.e. Super or Gottfredson);
Social learning and cognitive approaches (i.e. Krumboltz).
Other theories studied as part of the class that fit into each of these theoretical categories.
Students are also aware of and may include each subgroup of theories based on lecture materials provided in earlier class discussions and/or online presentations.
As a follow-up assignment, students share in class about one of the career theories and how they connected the theory with their own career development. In a 100% online class, this part of the assignment could take place through the discussion board where students can share an example in a forum specified by the instructor and apply them to each of the three theoretical categories.
The Work of the Counselor
In order to help students make connections between this assignment and career counseling, the instructor should also share how this activity can be used in a counseling session with clients. The counselor can use this activity with a client who is unsure of his or her career path, or a client who wants to change careers. Going back to the earlier example of the stay at home mom, we can see from her autobiography that she was an active volunteer at her children's schools, and was occasionally a substitute teacher in the classroom. Further reflections reveal that she was only a few credits shy of a bachelor's degree in education, but got married and had children before completing her final semester. The counselor works with her to develop a plan for going back to school to finish up her work and pursue a teaching degree/career.
The career autobiography can be completed in one counseling session or given as a homework assignment for a follow-up meeting to aid the career development reflections and help the client begin to think about the potential for new/different career paths. This activity has helped clients to think about their careers, past and present, as well as career interests that they may not have pursued or considered as part of their career path/development. A free resource that is an extended version of the career autobiography is My Career Story: An Autobiographical Workbook for Life-Career Success by Mark Savickas and Paul Hartung that can be found at http://www.vocopher.com/CSI/CCI_workbook.pdf. This workbook has several different activities that can be used with graduate students or clients alike to build upon and further reflect on their life story utilizing strategies, such as thinking about heroes/heroines, writing about their favorite story, or reflecting on their favorite TV shows. These strategies could be utilized as a starting point to help a student/client who is struggling to create their career autobiography or as a follow-up to continue the career development process.
Counselor Education Enhanced
Overall, graduate students in counseling programs have found this assignment to be very helpful as they begin to think about career counseling, the value of incorporating career theory into their work with clients, and the autobiography's relevance to the overall career development process and impact on their lives. This article serves as encouragement for counselor education faculty to include this tool as part of the training in career counseling coursework. The career autobiography is beneficial for both current counseling students, and helpful in future counseling sessions with clients.
References
Rehfuss, M. C. (2009). The future career autobiography: A narrative measure of careerintervention effectiveness. Career Development Quarterly, 58(1), 82-90. https://doi.org/10.1002/j.2161-0045.2009.tb00177.x
Rehfuss, M. C., & Di Fabio, A. (2012). Validating the future career autobiography as a measure of narrative change. Journal of Career Assessment, 20(4), 452-462. https://doi.org/10.1177/1069072712450005
Savickas, M. L., & Hartung, P. J. (2012). My career story: An autobiographical workbook for life-career success. Retrieved from http://www.vocopher.com/CSI/CCI_workbook.pdf
---

Aaron H. Oberman, Ph.D., NCC is an associate professor and program coordinator for the counselor education programs at The Citadel in Charleston, SC. He has prior experience as a career counselor and has worked as a counselor educator and supervisor for 15 years. His research interests include job satisfaction, the ASCA Model, and best practices in college teaching. Dr. Oberman may be contacted through e-mail at aaron.oberman@citadel.edu.

Lindsay Harman, M.A., LPCA, NCC is a middle school counselor at Westview Middle School in Goose Creek, South Carolina. She has worked as a K-12 school counselor for 13 years. Her research interests include comprehensive school counseling program implementation as well as school counseling supervision. Ms. Harman may be contacted through email at harmanl@bcsdschools.net.
---