06/01/2020
Increasing Commuter and Non-traditional Students' Engagement in Career Counseling through Virtual Chat
By Tiffany Bitting and Priyanka Raut
The Importance of Engaging Commuter and Non-traditional Students through Virtual Chat Services
University Career Services at the University of Houston (UH) provides quality services to the diverse campus community of 46,148 students. Of these individuals, 85% of the students enrolled do not live on campus or University-owned property, approximately 43% identify as first-generation college students (UH Office of Institutional Research, 2019), and 10% are transfer students (UH Office of Institutional Research, n.d.). University Career Services began collaborating with campus partners and colleagues such as University IT on best ways to reach these students through quality virtual platforms.
Three Practical Steps to Implement Virtual Career Chats
Considering the diverse needs of the student population that UH University Career Services supports, career practitioner reviewed literature to find best practices and practical ways to deliver career services. Authors suggested ways to reach the increasing number of students using technologies at high rates (Cisneros, Haberstroh & Rowe, 2009). As a result, University Career Services piloted virtual chats during summer 2018. From this research and experience, the three practical steps emerged for virtual career chats: 1) assessment of resources, 2) development of a plan, and 3) implementation.
Assessment and Resources
To assess the utilization of this new service, University Career Services identified a need for the following:
A platform with tracking capabilities
Technological support and quick troubleshooting
Flexibility with adjusting chat schedules throughout the academic year
Reasonable cost
Once the institution had budgeted for platform investments, University Career Services conducted a student needs assessment survey. A career practitioner member emailed this survey to all self-identified commuter students and adult learners. The survey focused on understanding students' preference for date and time, which helped plan the initial launch schedule.
The institution also surveyed students after they completed chat sessions. Questions assessed users' experiences, their previous engagement in online chats, and the reasons they used the platform.
Development of an Implementation Plan
To provide online services aligned with ethics (National Career Development Association, 2015) and best practices, University Career Services designed an informed consent form. Students were required to read this informed consent and note their agreement before they signed-in to chat.
Career practitioner members also developed a marketing campaign to promote the new virtual service. The team promoted virtual chats through career services' social media platform twice every week and identified other diverse mediums for marketing, such as digital screens across campus, faculty/career practitioner list serves, social media, and campus-wide newsletters.
Implementation
Two career practitioners served as administrators for virtual chats and trained themselves using a mock portal. They also created a frequently asked question document and a fact sheet that students could access under the UH University Information Technology webpage (UH University Information Technology, 2017).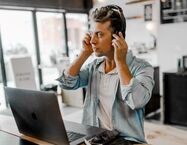 Challenges and Opportunities
Initially, career practitioners observed low utilization and lack of awareness of the virtual chat. Therefore, they increased campus-wide marketing and chat service hours, with the function now running for four hours on two days each week. Key marketing efforts included (a) promoting virtual chats during new and transfer student orientations, (b) implementing an email campaign to all students with unapproved resumes in the university's career management platform to get instant help with revisions, and (c) increasing awareness of virtual chats with student organizations by including them in targeted emailing campaign and providing virtual chat demonstrations during campus presentations.
At the conclusion of the pilot, career practitioner identified the following recommendations for other professionals considering chat services:
Facilitate focus groups to gather student testimonials and feedback on reasons why students choose to use or do not use the virtual chat platform
Enhance collaborations with faculty partners to integrate virtual career chats within the curriculum and to encourage students to become familiar with the online format
Expand offerings of days and times virtual chat hours are provided to students to include academic breaks such as spring break and winter break when career practitioners are in session
Provide cross-training to entire career services team and integrate ambassadors to serve as champions across campus and student organizations such as commuter student councils to reach nontraditional student populations
Stay abreast of technological/industry trends and student needs through ongoing satisfaction and needs assessment of your students and campus partners
In summary, to increase engagement of commuter and nontraditional student populations using a virtual chat platform, career services professionals much collaborate with campus partners and consistently assess the needs of the ever-changing student populations they serve.
References

Cisneros, S., Haberstroh, S., & Rowe, S. (2009). Implementing virtual career counseling and advising at a major university. https://www.utsa.edu/students/sanews/2009/https://careerconvergence.org/aws/NCDA/am/gi/issue18/2009Haberstroh_Rowe_Cisneros.pdf
National Career Development Association. (2015). NCDA code of ethics. https://www.ncda.org/aws/NCDA/asset_manager/get_file/3395?ver=738700
University of Houston, Office of Institutional Research. (n.d.). Common data sets (2019-2020). https://uh.edu/ir/reports/common-data-sets/
University of Houston, Office of Institutional Research. (2019). Statistical handbook. https://uh.edu/ir/reports/new-statistical-handbook/
University of Houston: University Information Technology. (2017). Get help FAQ. https://gethelp.uh.edu/kb/
---

Tiffany Bitting, Ed.D., is Associate Director of University Career Services at University of Houston. Within this role, she oversees career exploration, planning and readiness initiatives. Additionally, she is an adjunct faculty member at the University of Houston's Exploratory Studies where she teaches College Success courses. She can be reached at tbitting@uh.edu.

Priyanka Raut, MS Ed., is a Career Practitioner at the University of Houston with 10 plus years of experience in career development, employer engagement and supporting nontraditional students. Currently, she serves as the lead career practitioner at the UH at Sugar Land and Katy sites. She can be reached at praut@uh.edu.
1 Comment
Disclaimer: The opinions expressed in the comments shown above are those of the individual comment authors and do not reflect the views or opinions of this organization.
---