11/01/2019
Business Model Basics for Clients' Career Advancement: Getting Ahead without Getting an MBA
By Bruce Hazen
David is a microbiologist fluent in German who was researching work at a small food products company expanding into the German and Austrian markets. He has worked hard to build his career and be the best he can be. He has a strong skillset, particularly in the areas of language and science. David has also served as a mentor or champion, helping others succeed at work and in their careers.
Now, David is ready for more: a promotion, new role, different challenges. He is not having any luck achieving this next step. Like many of the clients you serve, he has come to you for help figuring out how to do this. Your job is to determine and help rectify, "What's missing? What's getting in the way?"
Business Modeling: A Solution to Job Description Myopia
Traditional career coaching has focused on helping clients develop greater self-awareness, including skills, interests, and personality type, in order to manage their career trajectories and workplace or leadership effectiveness. That approach makes sense but can lead to a narrow perspective—a myopic view of roles. The approach is missing a crucial dimension: understanding business strategy. Clients need to understand where a potential employer is headed in order to position themselves as a key resource to helping move the organization forward. How can your clients do that without earning an executive MBA or taking a stint on a strategy team?
One solution is to learn business modeling, which is the process of defining and graphically depicting the convergence of organizational and personal strategy around nine key elements of any operation. These are listed below, along with questions and discussion prompts you can use with your clients to explore each element:
Who Helps You (Key Partners)
Who helps you provide value to others?

Who supports you in other ways, and how?

Do any partners supply

Key Resources

or perform

Key Activities

on your behalf? Could they?
What You Do (Key Activities)
List several critical activities you perform each day that distinguish your work from other people's work.

Which of these activities does your

Value Offered

require?

Which activities do your channels and customer relationships require?
Who You Are/What You Have (Key Resources)
What excites you most about your work?

What do you find least exciting about your work?

Describe what you do best at work.

Describe any personal values or beliefs that influence your work.
What You Give (Costs)
What do you give to your work (e.g., time, energy)?

What do you give up in order to work (e.g., family/personal time, other attractive opportunities)?

Which

Key Activities

are most "expensive" (i.e., draining, stressful)?
How You Help (Value Offered)
What value do you offer to customers?

Which problem do you solve or which need do you satisfy?

Describe specific benefits customers enjoy as a result of your work.
Who You Help (Customers)
For whom do you create value?

Who is your most important customer?

Who depends on your work in order to get their own jobs done?

Who are your customers' customers?
How They Know You/How You Deliver (Channels)
Through which channels do your customers want to be reached?

How are you reaching them now?

Which channels work best?
What You Get (Revenue and Benefits)
Describe your two most important hard benefits (e.g., salary, health or disability insurance, retirement savings, stock options, tuition assistance, childcare allowance, etc.)

Describe your two most important soft benefits (e.g., personal satisfaction/enjoyment, professional development, recognition, social contribution, flexible hours/conditions, sense of community, etc.)
Shown below, Figure A, the Personal Business Model, can be used to help clients develop their personal business models, examining the crucial interdependencies of these nine elements. After learning and implementing the model, clients move from myopic views of their role or job description to seeing how they personally operate in the context of a team or the entire enterprise they work for or want to work for.
Figure A, the Personal Business Model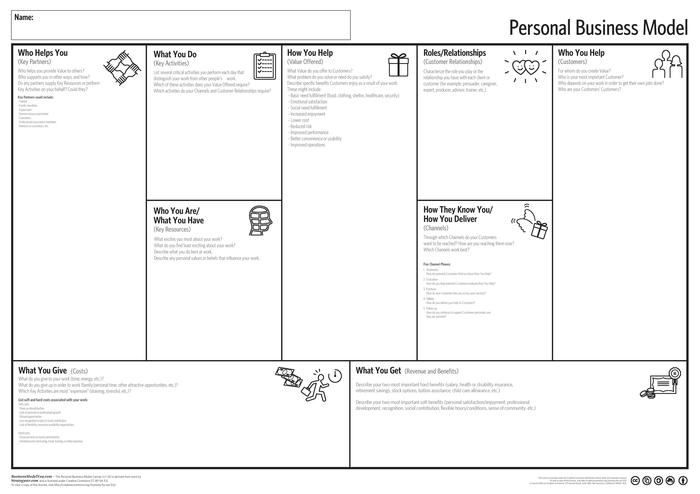 The Personal Business Model Canvas and other tools can be downloaded free of charge by signing up here.
Successfully Implementing the Business Model
To stand out as candidates, our clients need to speak insightfully about the organization's goals and ask questions that reflect a more sophisticated operational savvy, then relate the responses to how they can add value.
Every candidate doesn't need an MBA. But everyone needs business savvy to apply their skills and knowledge to the right work at the right time and inter-relate their work with others. Personal business models show an individual how to understand and contribute to the operational logic by which an organization delivers value, on a repeatable basis, and gets compensated for doing so.
The Case of David
This was true for David, the microbiologist fluent in German. He applied elements of business modeling to his search during one of his networking conversations with a company insider. He traced the impact of the company's expansion into the German-speaking market (Who You Help). This expansion would require company investment in marketing (How They Know You). David was uniquely prepared (Who You Are/What You Have) with cultural competency and language skills to partner (Who Helps You/Key Partners) beyond his science specialty and to collaborate with the marketing team to localize their campaigns for penetration into German-speaking customer segments. This comprehensive, connect-the-dots conversation made David sound more like an industry insider than a want-to-be-employee.
In David's case, there were no open job descriptions with his target company. It didn't matter. The company created one upon recognizing the added value (How You Help) that David could contribute to an overlooked marketing hurdle (language and cultural localization) that they would have to overcome.
Imagine how your clients could stand out in interviews or advance in their organizations if they move past job description myopia and speak with the business savvy that business models offer.
---

Bruce Hazen is a career consultant, author, and originator of the Three Questions™ career coaching methodology and co-creator of Business Model You training (businessmodelyou.com). Following his degree in Industrial and Labor Relations from Cornell University, he trained and practiced as a licensed psychotherapist and went on to gain three decades of senior talent management and organizational development experience in technology, healthcare, outplacement, and executive coaching. Bruce is the author of Answering the Three Career Questions and co-author, with Tim Clark, of Business Models for Teams: See How Your Organization Really Works and How Each Person Fit In (Penguin/Random House, 2017). Bruce presented "Discover Personal Business Models: Yours. Theirs" at the 2019 NCDA global conference. Bruce can be reached at bruce@threequestionsconsulting.com.
2 Comments
Disclaimer: The opinions expressed in the comments shown above are those of the individual comment authors and do not reflect the views or opinions of this organization.
---