10/01/2017
What Color is Your Parachute? 2017: A Practical Manual for Job-Hunters and Career-Changers
Book Review by Earl J. Berksteiner
Bolles, R. N. (2017). What Color Is Your Parachute? 2017: A Practical Manual for Job-Hunters and Career-Changers. New York, NY: Ten Speed Press. 355 pages.
Richard Bolles first authored What Color Is Your Parachute? in 1970 and he has updated this powerful tool annually. His latest version is just as timely as his first because he speaks to job seekers and career-changers in the most current terms. The book is a "how-to" manual filled to capacity with the latest tips regarding the job market, successful employment interviews, and salary negotiation. In addition, Bolles dedicated two chapters of the book to self-awareness, where readers can obtain an assessment of their personality and preferences. Chapter 8 encompasses the thorough Flower Exercise (a self-inventory) which forces readers to actively think about their makeup in the world of work. If readers take this exercise seriously, they will be able to make better decisions about career paths.
The author designed his book so that it doesn't have to be read in its entirety. Readers have the option to browse the contents and work through any chapter that fits their needs. The contents are composed of chapters and appendixes. The Pink Pages section is where the appendixes are found. The appendixes are a manual within a manual. The topics delve into self-assessment and Bolles provided some tables and charts in the book for the reader to complete. For example, on page 311 in the Pink Pages, a chart is provided to help readers screen for career counselors. Within the chart are 5 questions that can lead the reader to an appropriate selection.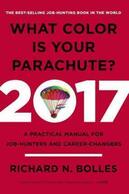 The 2017 Table of Contents
Chapter 1 It's a Whole New World for Job-Hunters
Chapter 2 Google Is Your New Resume
Chapter 3 There Are Over Ten Million Vacancies Available Each Month
Chapter 4 Sixteen Tips about Interviewing for a Job
Chapter 5 The Six Secrets of Salary Negotiation
Chapter 6 What to Do When Your Job-Hunt Isn't Working
Chapter 7 Self-Inventory, Part 1
Chapter 8 Self-Inventory, Part 2
Chapter 9 You Get to Choose Where You Work
Chapter 10 How to Deal with Any Handicaps You Have
Chapter 11 The Five Ways to Choose / Change Careers
Chapter 12 How to Start Your Own Business
The Pink Pages
Appendix A Finding Your Mission in Life
Appendix B A Guide to Dealing with Your Feelings While Out of Work
Appendix C A Guide to Choosing a Career Coach or Counselor
Appendix D Sampler List of Coaches
Appendix E Recent Foreign Editions of What Color Is Your Parachute?
The Final Word: Notes from the Author for This Edition
About the Author
Update 2018
Index
Additional Helpful Resources from the Author
Resources for the Computer Savvy
Throughout the manuscript, Bolles listed web site addresses that lead the reader to resources to assist with their career needs. These resources include personality assessment websites, temporary employment agency websites, and links to career development professionals located throughout the country. For example, Appendix D is composed of 16 pages where the author provides a list of career coaches and their corresponding websites and email addresses. Chapters 7 and 8 are replete with a number of hyperlinks that will supplement the resources available to readers who take advantage of the self-inventory exercises.
Why Read This Book?
Bolles wrote in an easygoing, humorous, unpretentious style that can put the unemployed, job seekers and job changers at ease. Those seeking employment will have another tool at their disposal and they will have a tool that has an established record of success. Through the generations, the primary goal of this book has been to assist those in career transition. The casual reader seeking a job search handbook or a text for students might be tempted to ignore a book that has been in publication for almost 50 years. However, the Parachute book has remained relevant because the author always kept abreast of the latest trends in careers, the labor market and technology. Whether the reader is a Baby Boomer or a Millennial, this book is useful.
Unfortunately, Richard Bolles passed away in March 2017 at the age of 90. Fortunately, his career development legacy continues and the 2018 edition of What Color Is Your Parachute? will be carried in bookstores throughout the world.
---
Earl Berksteiner, Ed.D., CPRW is a career coach at University Career Services, Savannah State University in Savannah, GA. He assists students and alumni in managing their careers by providing career development services. His past experience includes providing career services to military veterans. He may be contacted at berksteinere@savannahstate.edu
---